On January 21, 2023, Football New Brunswick held their Annual Awards event at the Delta Fredericton.
It was an evening filled with celebration and recognition of the amazing volunteers and athletes who have made Football New Brunswick so special.
We had an amazing turnout of 160 attendees, including guest speaker Brandon Revenberg of the Hamilton Tiger-Cats.
We'd like to thank everyone who attended and contributed to this special event.
athlete Award recipients: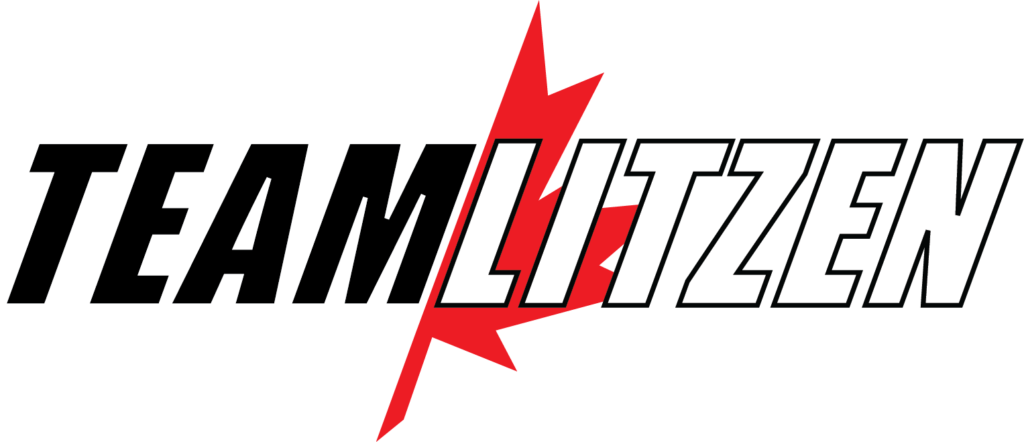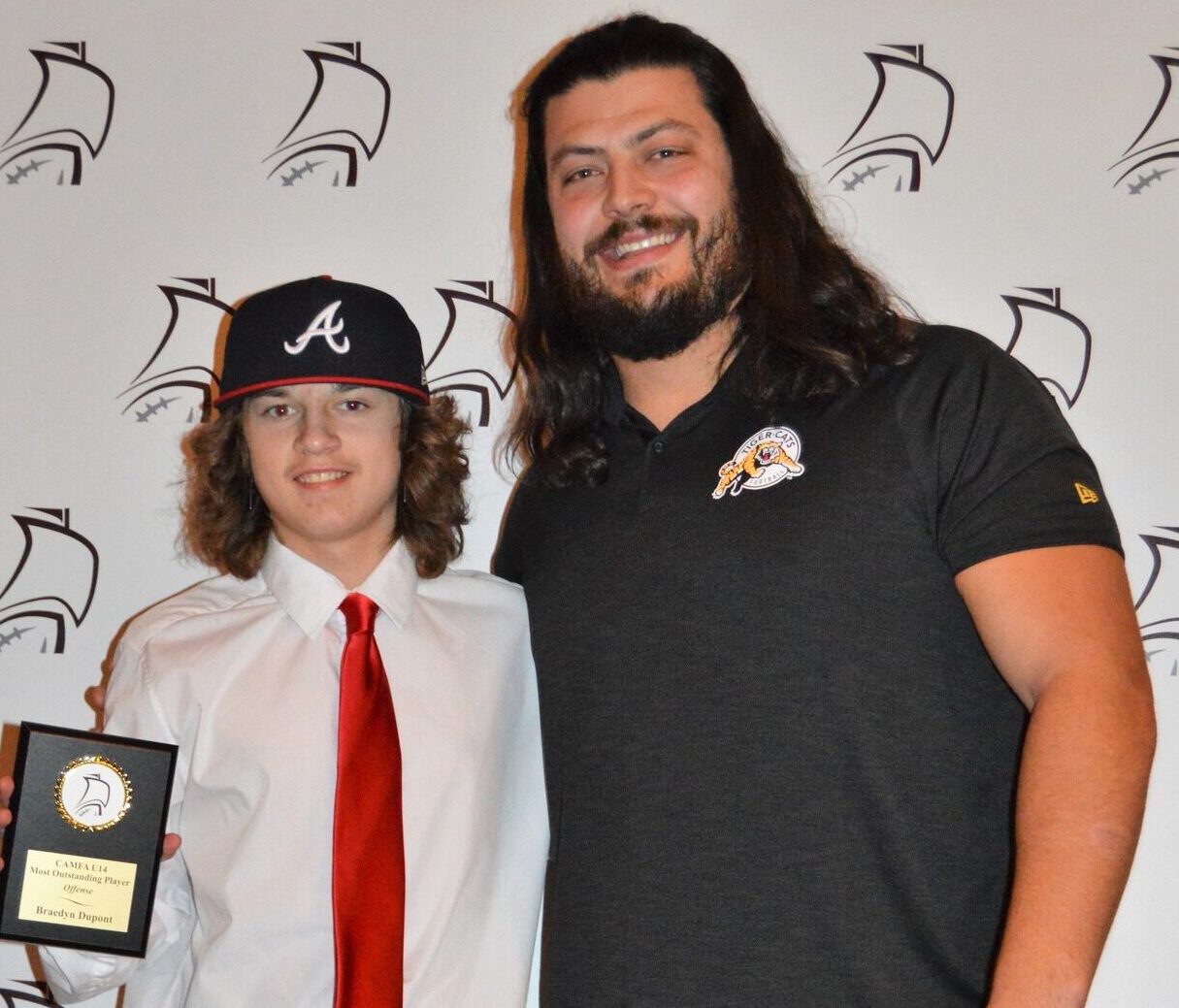 Braedyn Dupont
CAMFA U14 Offensive Most Outstanding player
Braedyn was the heart and soul of the U14 Lions. He was the leader by example by being the hardest worker, first to show up and last to leave.
He scored most of their touchdowns this season while playing running back and gained more yards than anyone else within CAMFA. He also played the quarterback position and was a very efficient passer. Braedyn was also a special teams star where he took both kickoffs and field goals as well as returned kicks and punts. He was also outstanding on defence at the Linebacker position.
Braedyn was instrumental in the success the Lions had in winning the City Championship. It has been a long time since one player has made such a huge impact in all aspects of the game and at all positions. He has a bright future in the game as he moves onto the U16 level in 2023.
Braedyn also had a great Spring with the U14 Team NB playing running back and half back.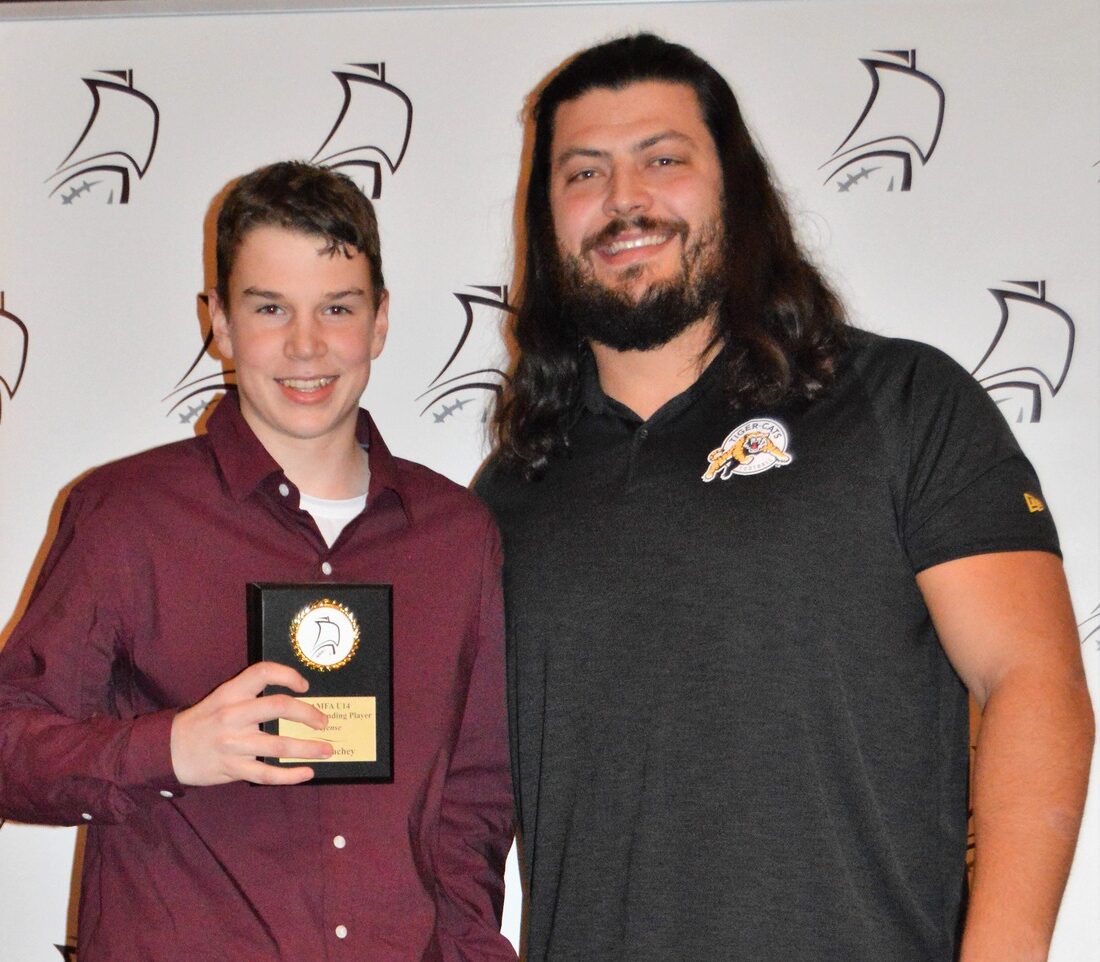 Liam HAchey
CAMFA U14 Defensive Most Outstanding playeR
Liam was a leader on the U14 Nordics this Fall, at the linebacker position. Although the Nordics didn't have a great season, Liam stood out as the top defensive player in CAMFA. He lea his team in tackles by a huge margin and was the captain of the defence.
Liam also had a great season with the U14 Team NB in the Spring.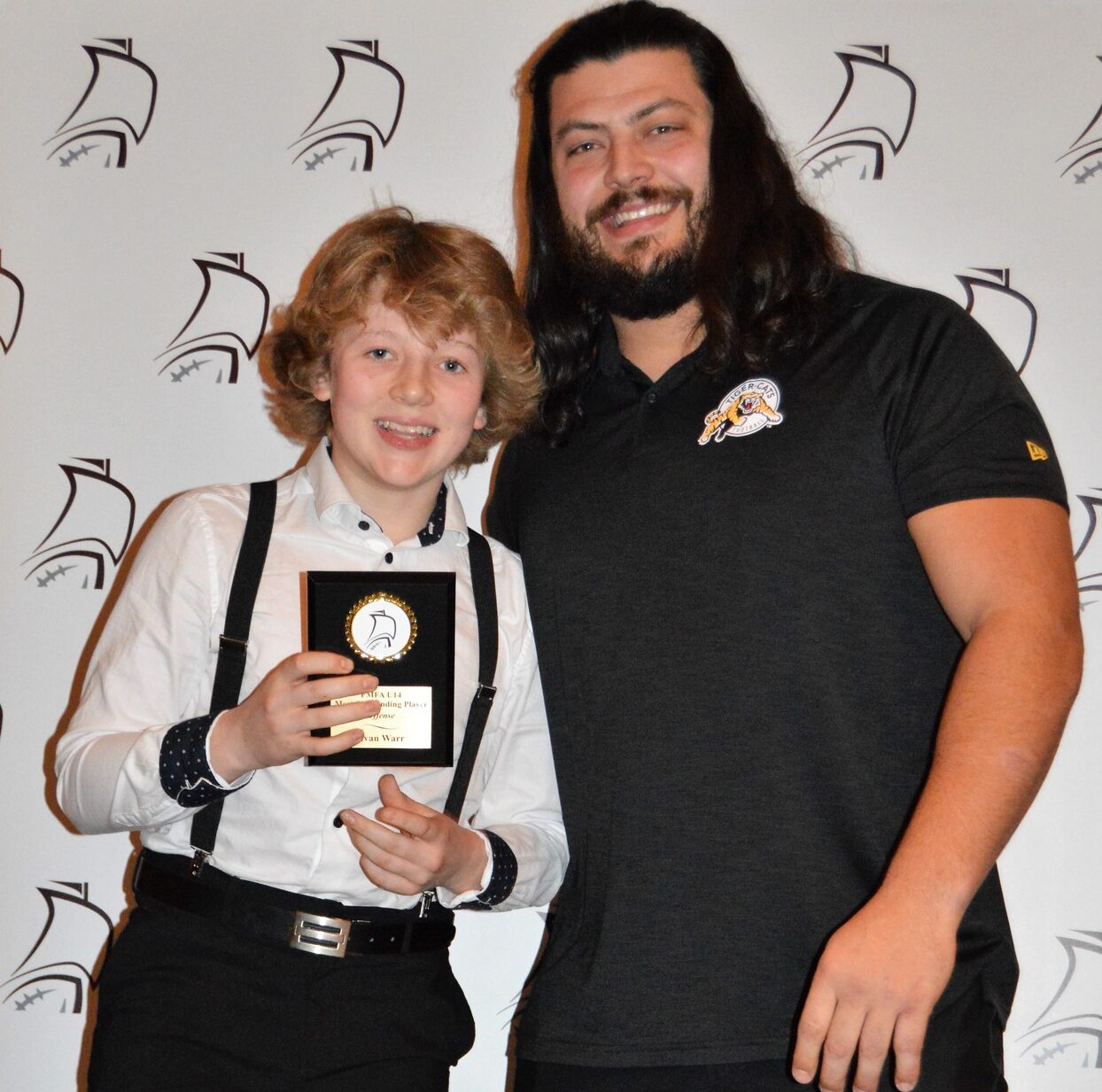 Evan Warr
Fundy U14 Offensive Most Outstanding playeR
Evan is that special player who comes around every 5 years that no one forgets. This season Evan played both ways and was easily the MVP of a team along with at least 6 other superior players who would excel on U14 Team NB.
Evan led his team in every way, he was the best kicker, defensive player, running back, quarterback (even though he only started one game he threw several touchdown passes).
This season Evan carried the Saints on his back with huge runs, game winning touchdown passes and huge catches out of the backfield. This might be the hardest working athlete to come through Fundy in a long time.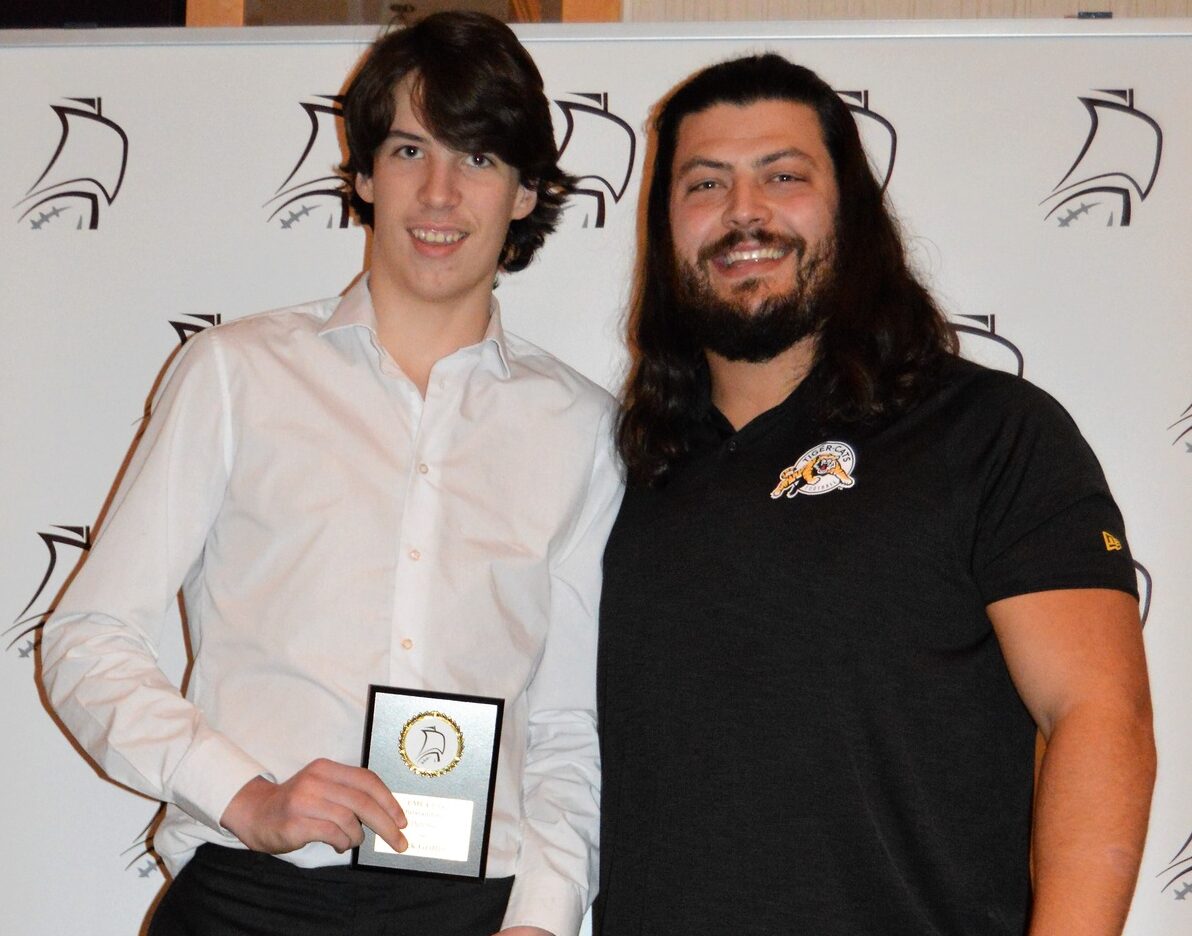 Nick Griffin
Fundy U14 defensive Most Outstanding playeR
Nick was his teams captain and a real leader on the field. He was the primary reason his team went from a 0 win team in the regular season to the Provincial championship game.
Griffin played both ways when needed, was the kicker and lead tackler. Nick also led the team in sacks, strips and fumble recoveries.
Nick was also a great sport, after every game coaches would comment on his play and how he always helped up the other players after tackling them.
Nick always shows up to practice with new ideas and studies the game more than most his age.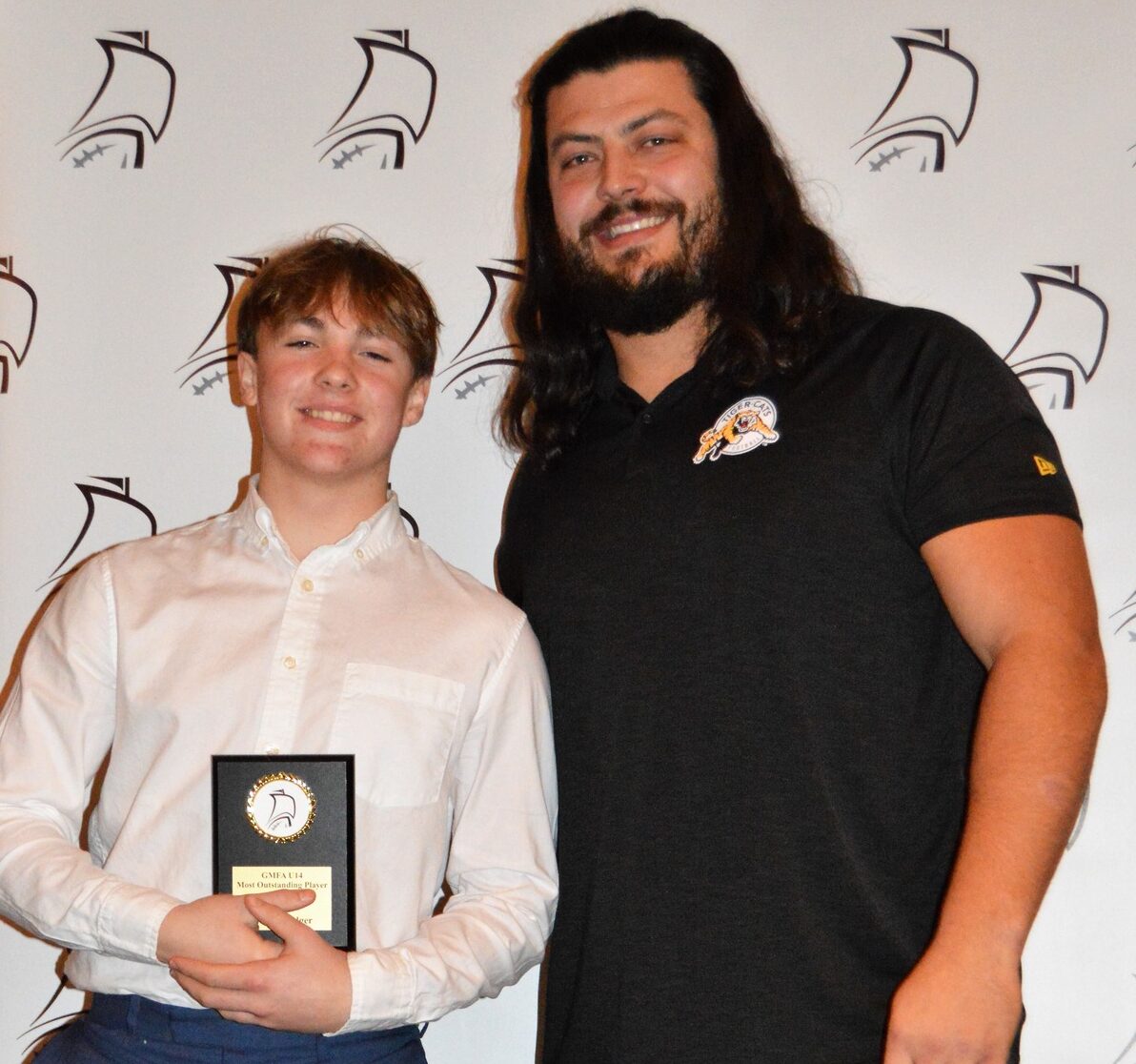 Gavin Bridger
GMFA U14 Offensive Most Outstanding playeR
Gavin's ability to score a touchdown at any given time makes him the most explosive offensive threat to every team in New Brunswick. He leads with not only his athletic ability but is a positive vocal leader and wants his teammates to succeed as well.
At quarterback, Gavin scored 31 running and 10 passing touchdowns. Gavin has the ability to play any position on both sides of the ball and his competitive drive lifts the team. If Gavin isn't scoring a touchdown or playing linebacker on defense he is cheering on his team and helping players up after the play. The U14 GMFA Royals offence lea by Gavin scored 462 points in 10 games and went undefeated winning a provincial title which ended a 17 year drought in Riverview. Gavin was MVP of the Provincial Championship game. Not only is he the most coachable kid he is a pleasure to be around.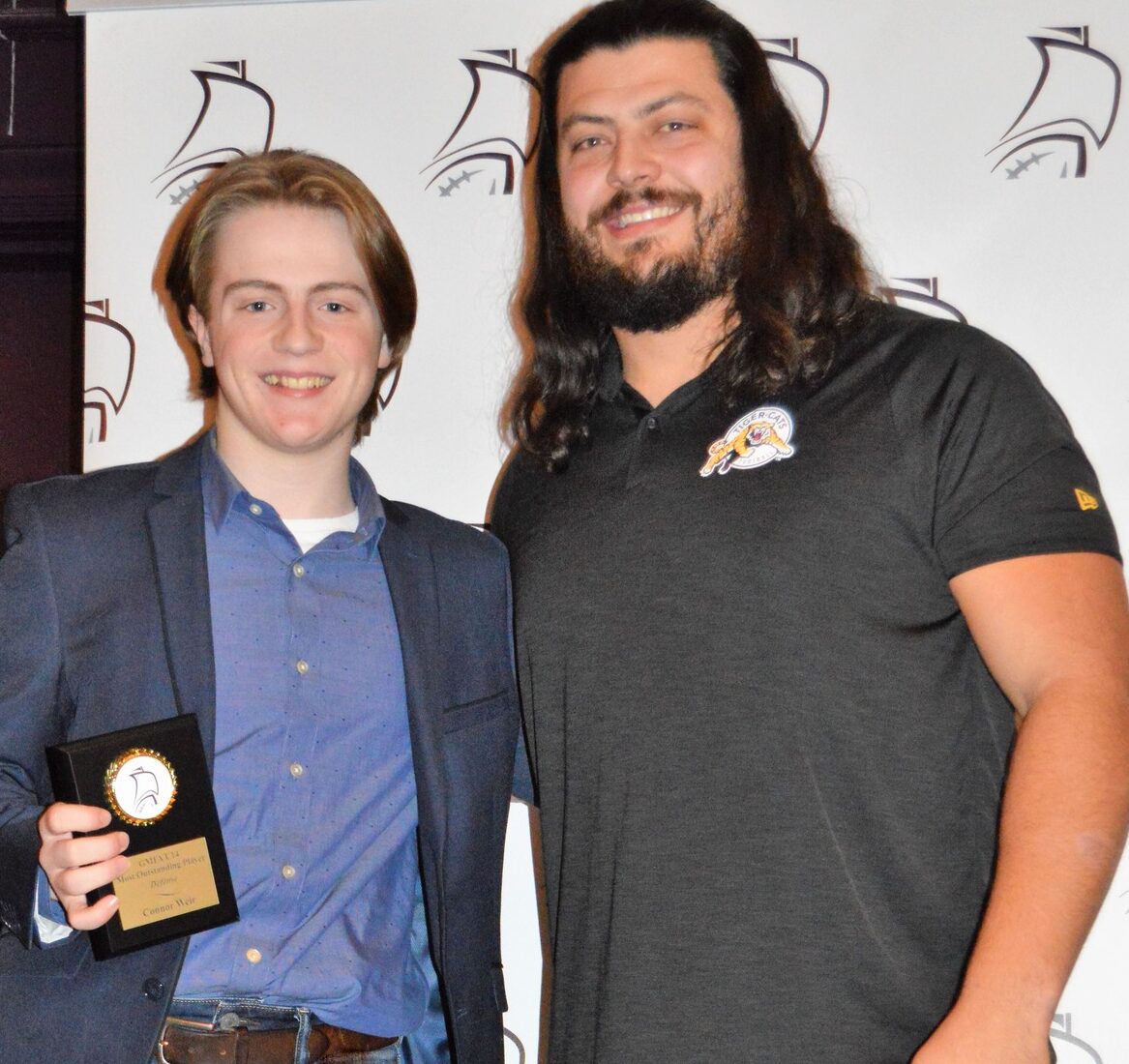 Connor Weir
GMFA U14 defensive Most Outstanding playeR
Connor's presence on the field is dominating. He can do it all. His stats speak to the ability he has with 17 total touchdowns from all over the field. 4 punt return touchdowns, 1 onside punt recovery for a touchdown, 1 Kickoff return touchdown, 4 interceptions (3 for touchdowns) and 8 fumble recoveries (one for a touchdown). Connor also had 3 onside kick recoveries and 32 solo tackles. 7 touchdowns came on offense in the playoffs.
Connor leads by example and is willing to put the work in to be his best and improve the team. Connor is the leader of the Defense which held the other teams in NB to a total of 100 points in 10 games with 4 shutouts. He is almost involved on every play, with his overall skill and football knowledge. He makes every teammate around him better.
Connor was Defensive MVP for the Provincial Championship game and his proudest moment was holding the U14 GMFA Matador to zero points in the city finals. The class Connor demonstrates on and off the field makes him even more respected by his teammates and coaches beyond his football ability.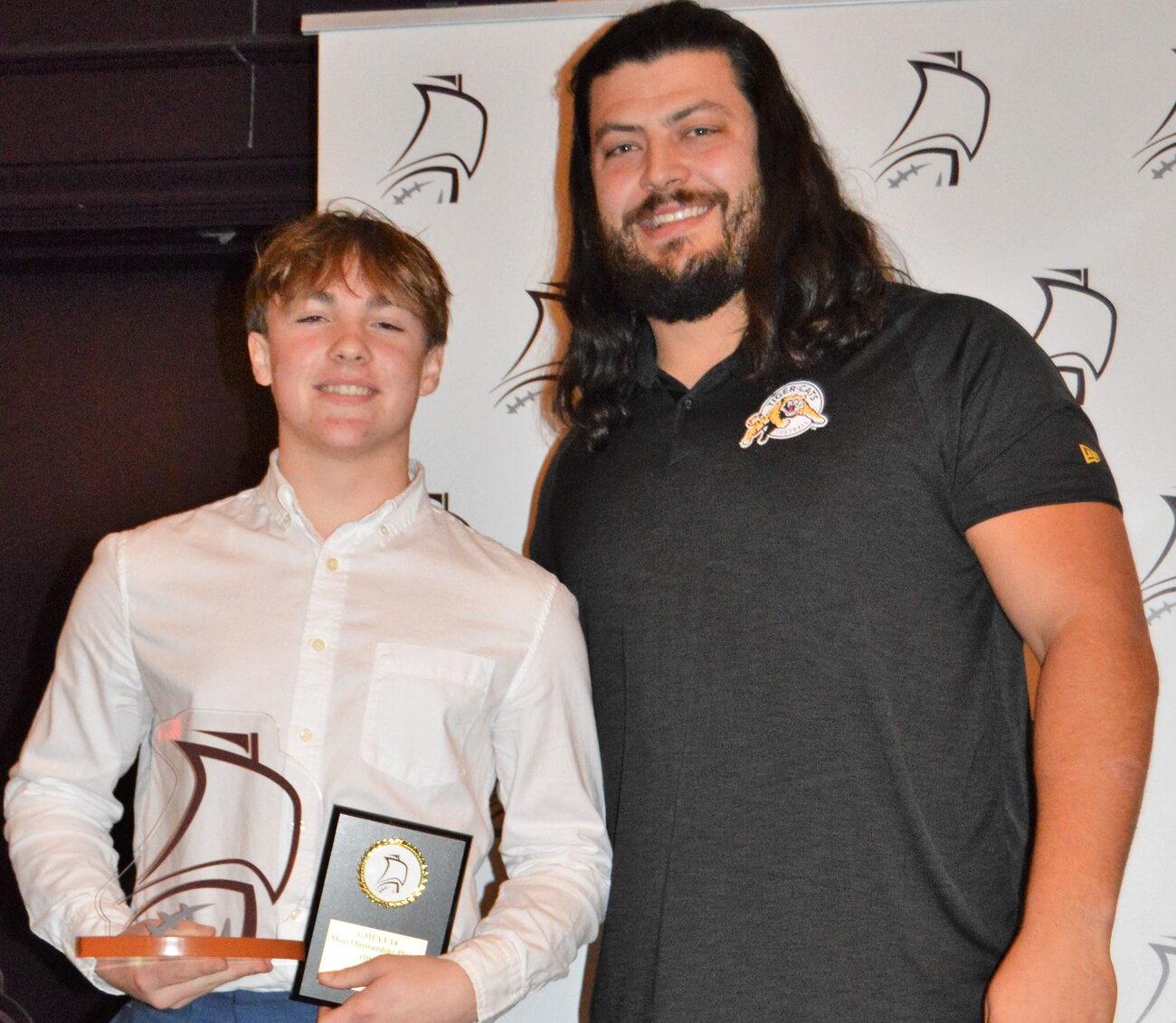 Gavin Bridger
New Brunswick Overall U14 Offensive MOp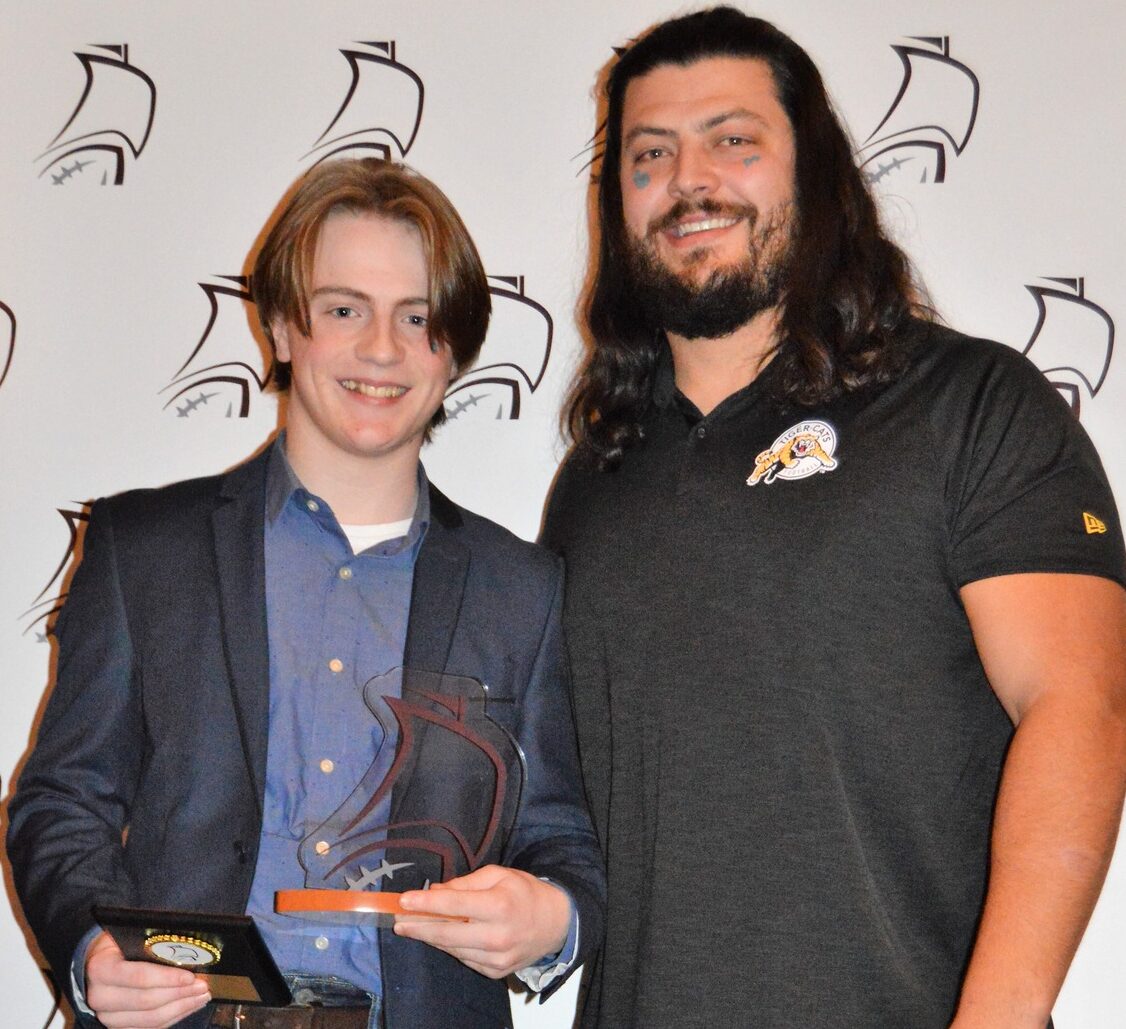 Connor Weir
New Brunswick Overall U14 Defensive MOp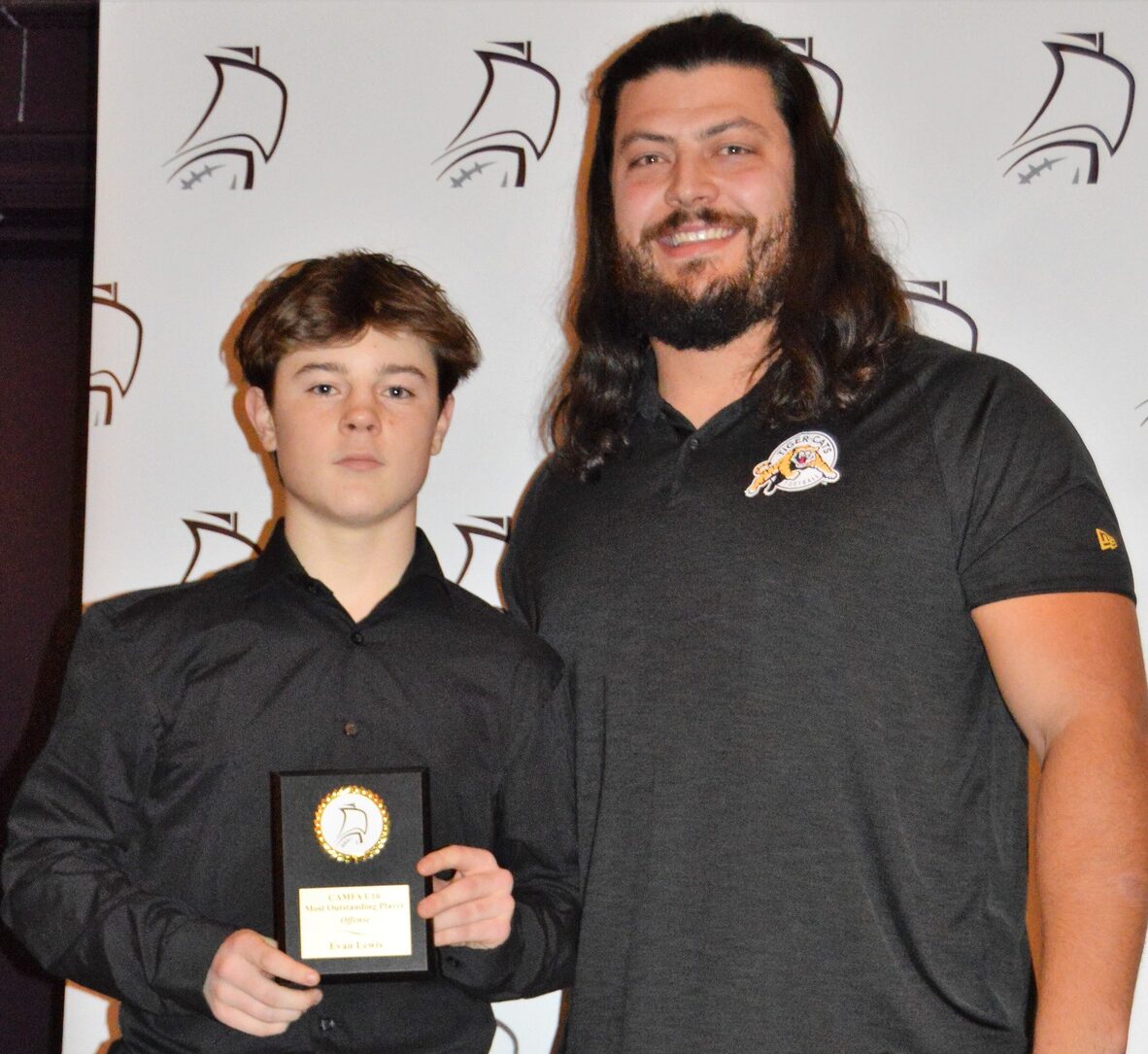 Evan Lewis
CAMFA U16 Offensive Most Outstanding playeR
Evan is a what you hope for in every athlete. From his positive attitude in good and bad, his positive approach to helping other athletes understand their responsibilities, and his consistent positive encouragement.
Beyond his positive attitude he is an amazing athlete. His ability to play any position on the field, know the responsibility and assignments and play the position effectively are a coaches dream. The fact that he knows the position adds to his ability to help other athletes develop, its like having another coach on the field.
Although he can play any position he found his home on offense. When he had the ball in his hands he led the Kats in receptions, yards after catch and was a leading scorer in the league. When he was a supporter player his blocking, drive and encouragement were unmatched in the league.
When CAMFA held an intro to football day at his school he was quick to volunteer, assist other students and add a positive atmosphere.
On multiple occasions coaches would stop to talk to his parents about the young man they were raising. On top of his outstanding play, his eagerness to learn, his positive approach to the game, the effort he brought to every practice and the impact he had on his teammates makes him the U16 Offensive MOP for CAMFA.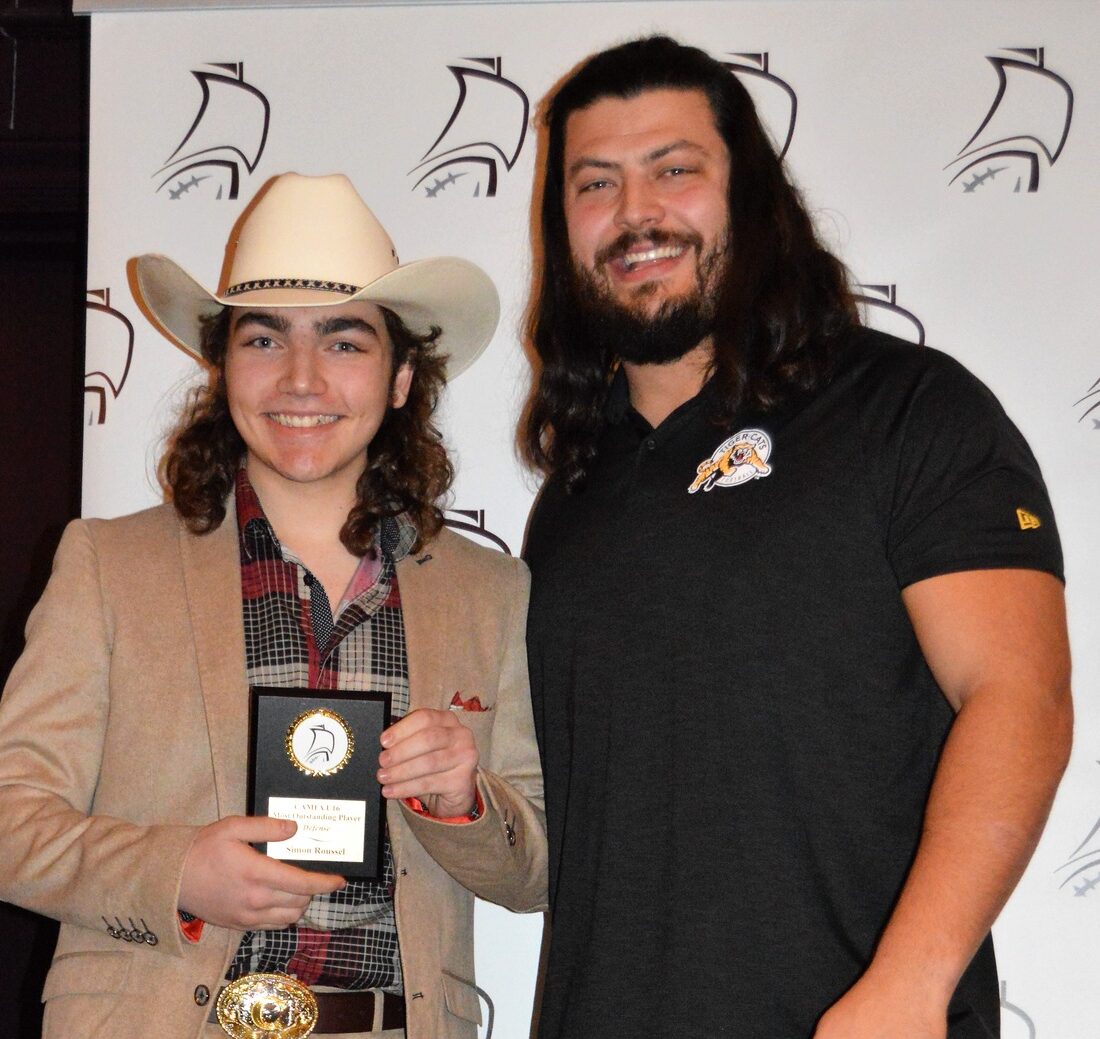 Simon Roussel
CAMFA U16 defensive Most Outstanding playeR
Simon "the Mullet Express" Roussel is an offensive wrecking machine! As a linebacker Simon was invaluable to his team this year. Coaches often talk of Football IQ – The ability to understand the game at a level beyond your single position and Simon's ability to read, understand tendencies and identify opportunities to exploit weaknesses in an offensive scheme are uncanny. Many coaches rely on what they can see from the sidelines but with Simon you have another set of eyes and they are in the middle of the action.
Simon on many occasions, would come back to the coaches and relay what he was seeing from within the game and offer positive suggestions on adjustments.
Simon is a positive influence on the team, always looking to lift the team up. On multiple occasions he led from within the team and worked with less experienced players to help them understand what was happening on the field, adjustments they could make to their technique, and provide positive reinforcement – either the great job or you'll get them next time!
On the sidelines Simon takes the team aside to rally the troops, too add encouragement and motivation, as well as pick up a player who was down on themselves for one reason or another.
Simon is always smiling, he is coachable, he is an amazing team player, and he is easily CAMFA's U16 Defensive MOP.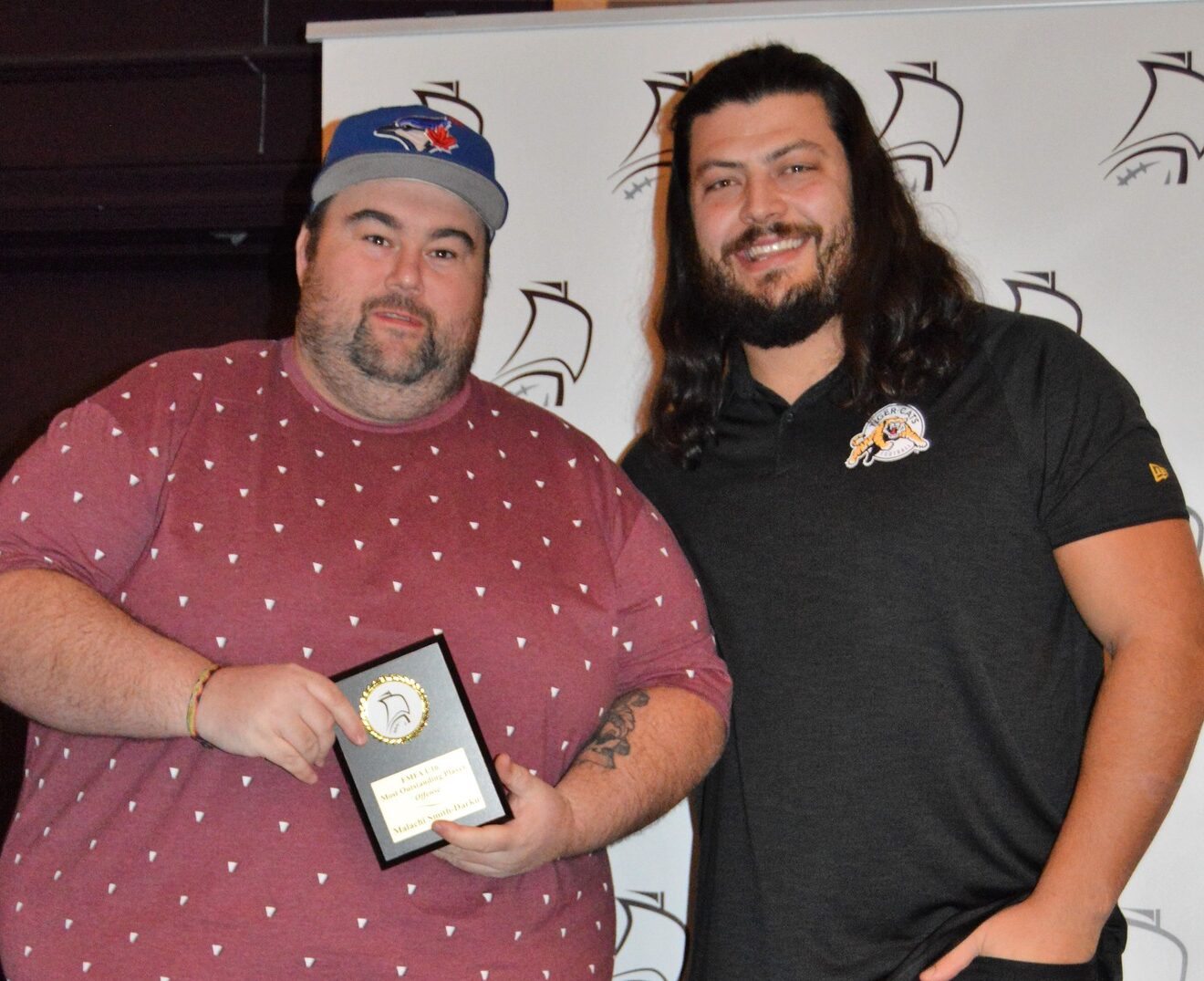 Malachi Smith-Darku (accepted by HC Dave Cave)
Fundy U16 Offensive Most Outstanding playeR
Malachi was the leading scorer on the Provincial Champion KV Cowboys and lea the team in rushing yards. He regularly broke 50 yard runs as well as caught many deep passes for touchdowns. He was a true competitor and his level of play elevated the players around him on the team. Malachi has a nonstop work ethic and pushes himself to be the best he can be. In the Provincial Championship game Malachi was awarded MVP for making big plays throughout the game.
He is coachable, a very respectful young man and a positive member of the team. He is an elite athlete with a very bright future.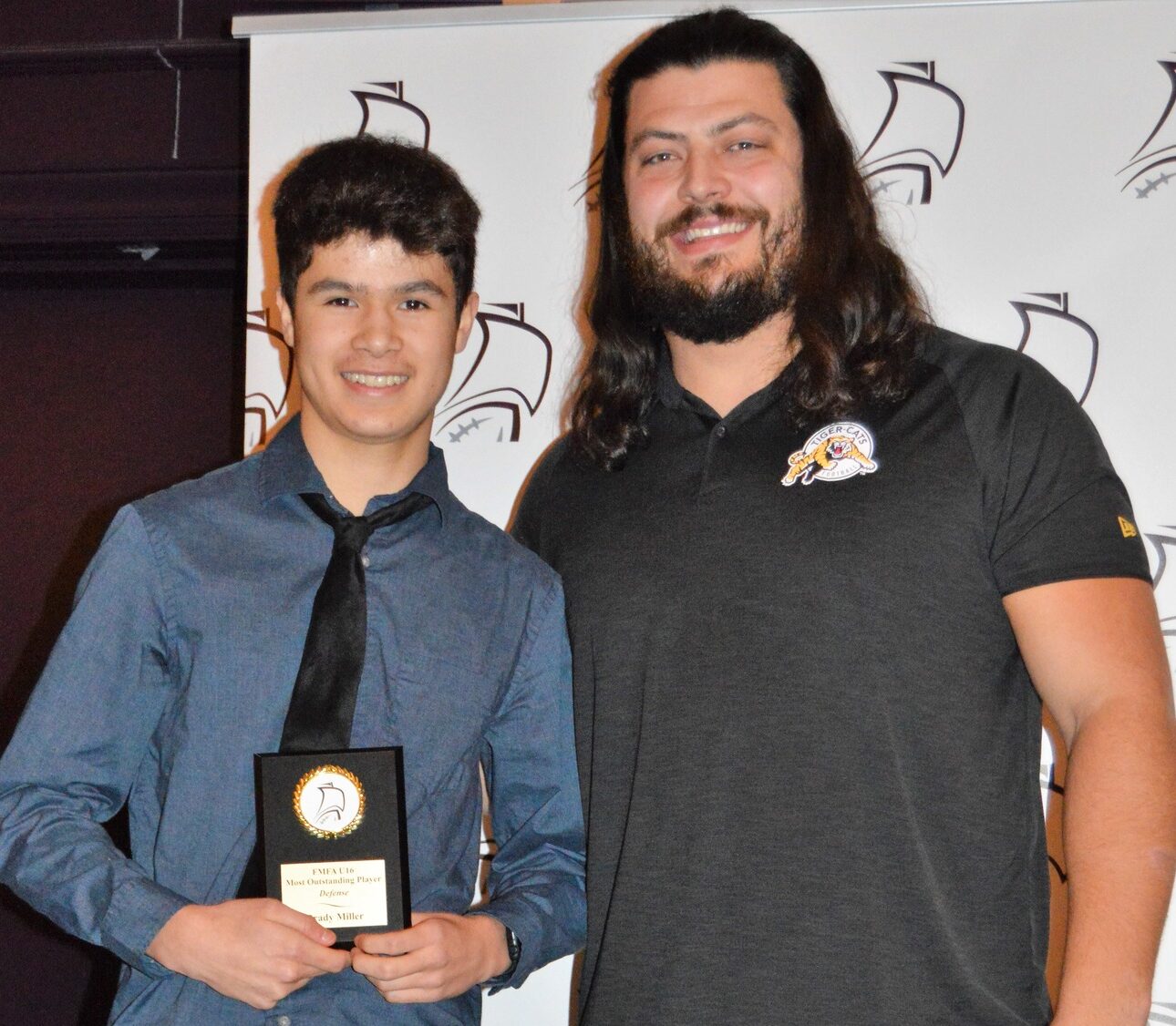 Brady Miller
Fundy U16 defensive Most Outstanding playeR
Brady was the Abbies most valuable defensive player this year. He is a quiet leader on the field who leads by example. He plays with intensity but also with respect for his opponents. He led the team in tackles (56.5) and was a key factor in the teams 5-1 regular season record this fall.
Brady is also a high performance athlete, playing for Team NB in the Atlantic Bowl as well as the U16 Flag team this past summer.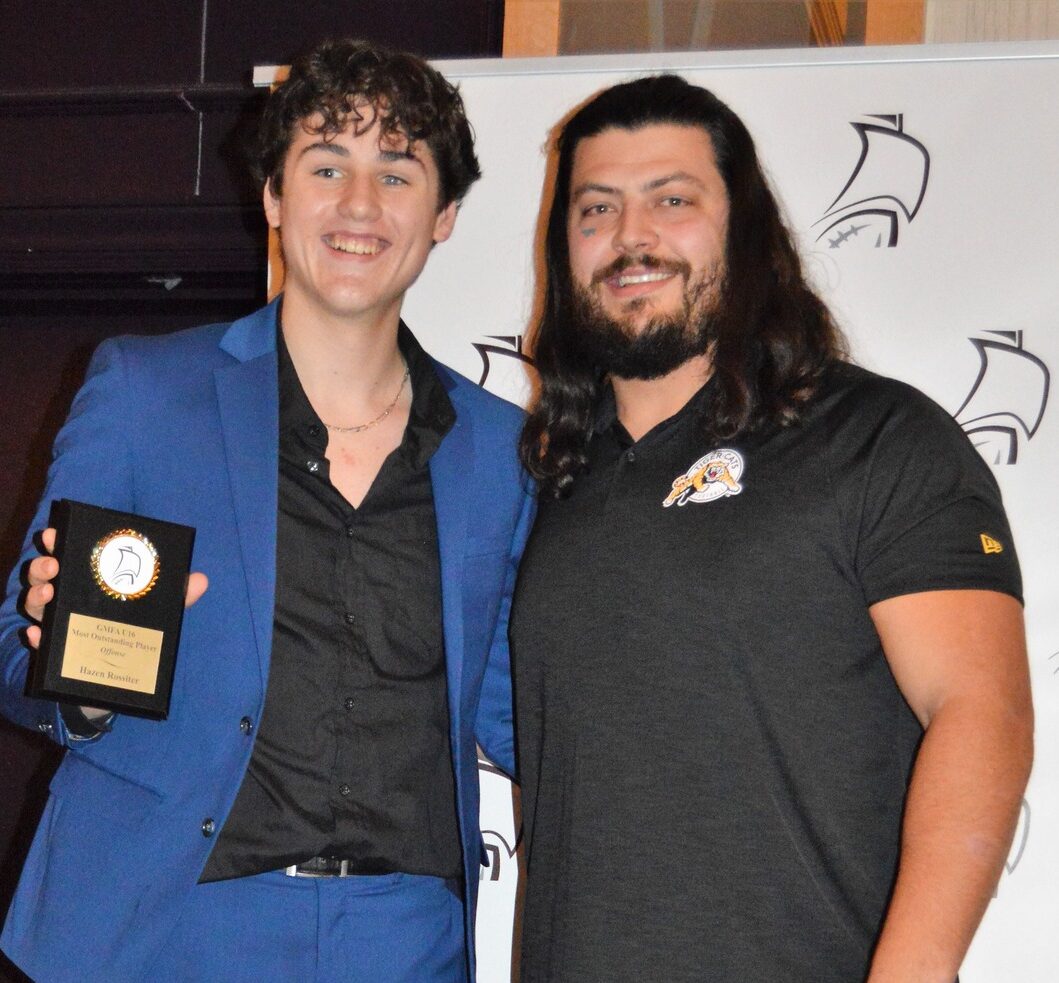 Hazen Rossiter
GMFA U16 Offensive Most Outstanding playeR
Rossiter is an incredible dual threat quarterback with the ability to make plays both on the ground and through the air. He is a natural athlete with quick decision making ability which enables him to quickly read defences and deliver the ball where it needs to go. Hazen has an incredibly powerful arm for his age which allows him to make multiple throws behind the defence and into the endzone. Rossiter's arm power combined with his size allowed him to extend plays that would normally have resulted in a loss. Hazen's leadership and knowledge of the game allowed the coaches to lean on him to help get his peers ready during practice and game prep.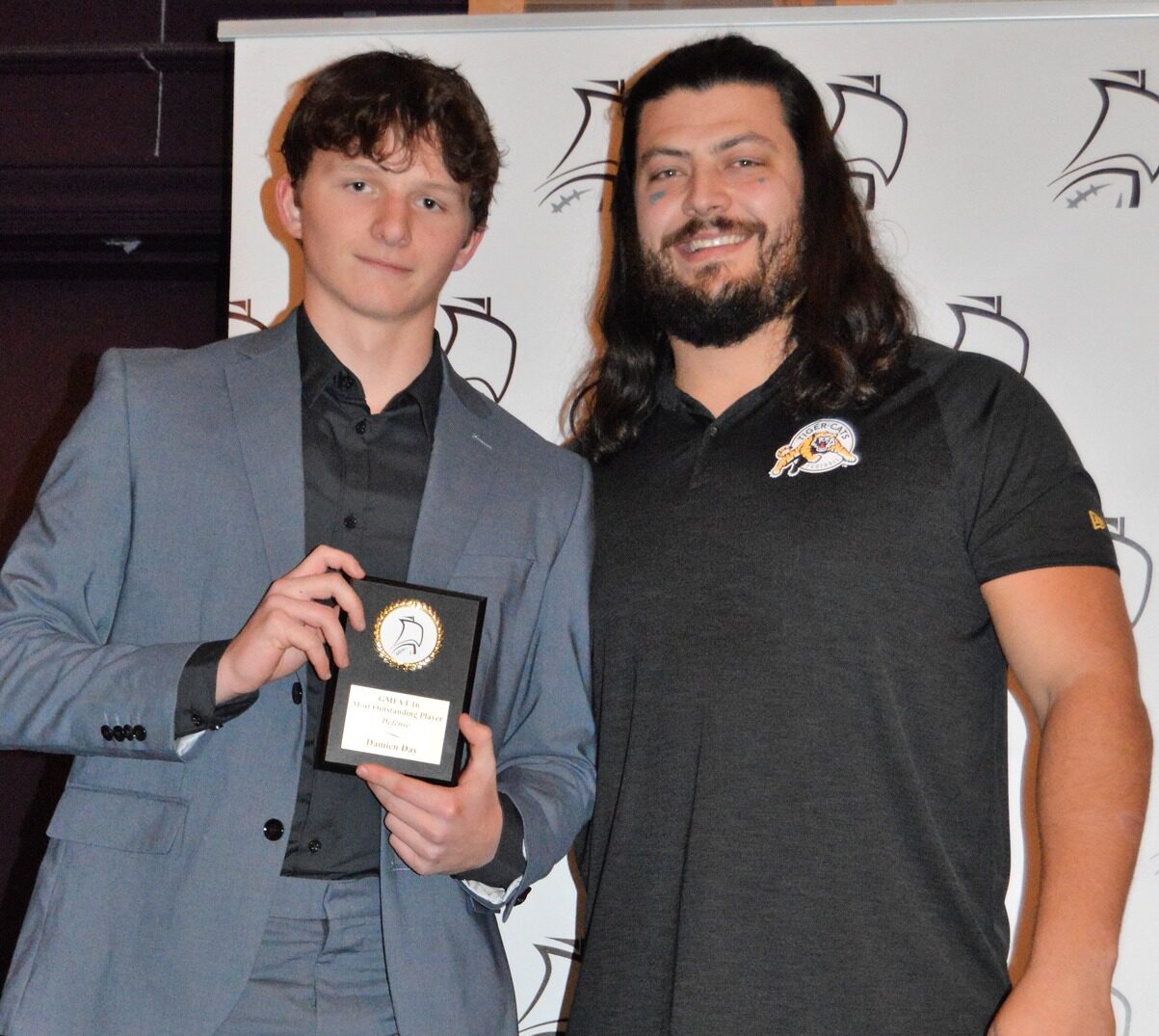 Damien Day
GMFA U16 Defensive Most Outstanding playeR
Damien is a natural athlete with an incredible motor. His strength, length and agility make him a game-wrecker on the defensive line. Damien's pass rushing abilities force Quarterback's into bad passes resulting in interceptions for his fellow teammates. He is never one to look for praise, a true teammate and leader. Damien continuously forces opposing coaches to game plan and adjust around him. A first year defensive player, Damien's coachability allows him to pick up skills and techniques in a fraction of the time it takes his peers.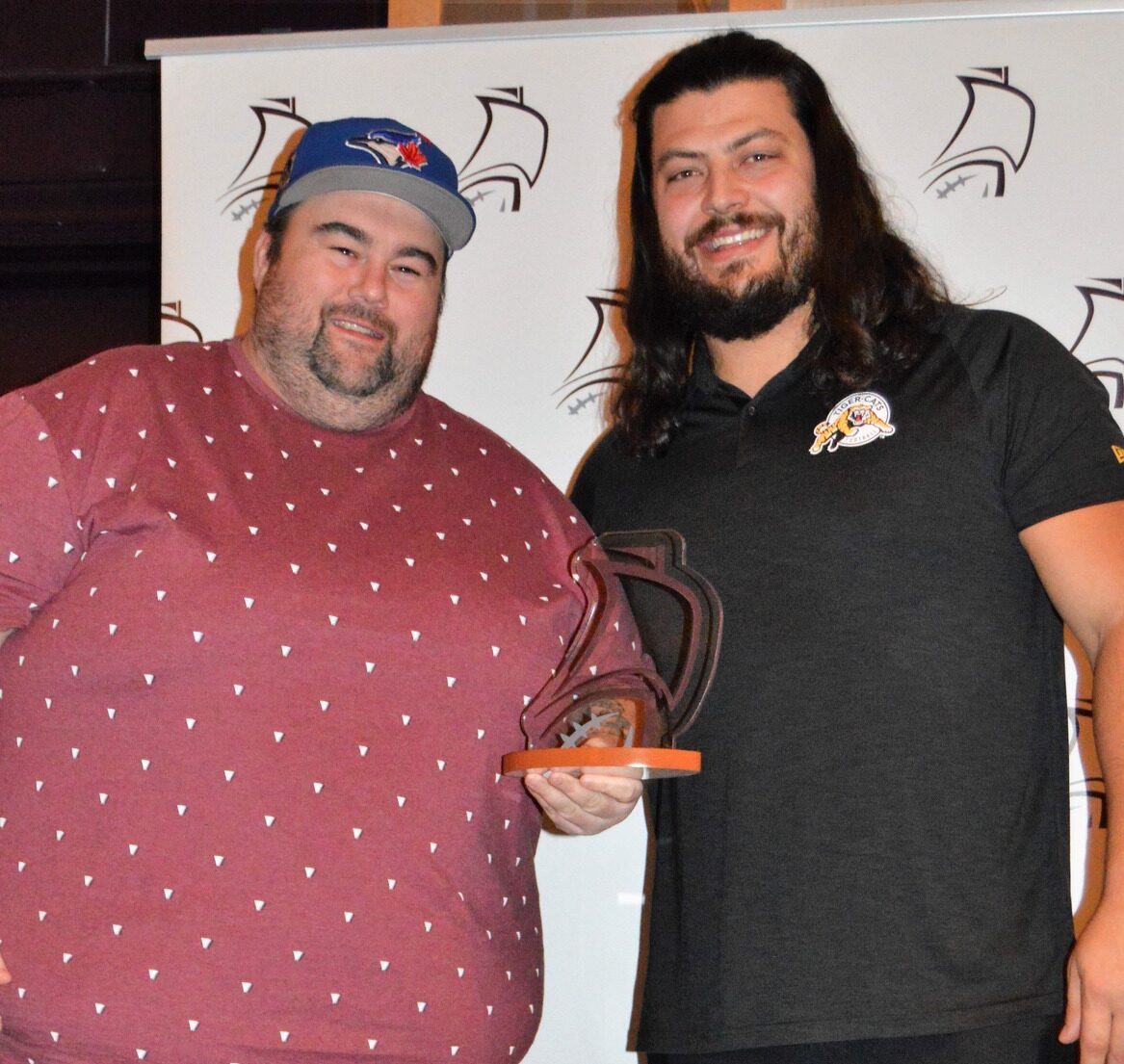 Malachi Smith-Darku (accepted by HC Dave Cave)
New Brunswick Overall U16 Offensive MOp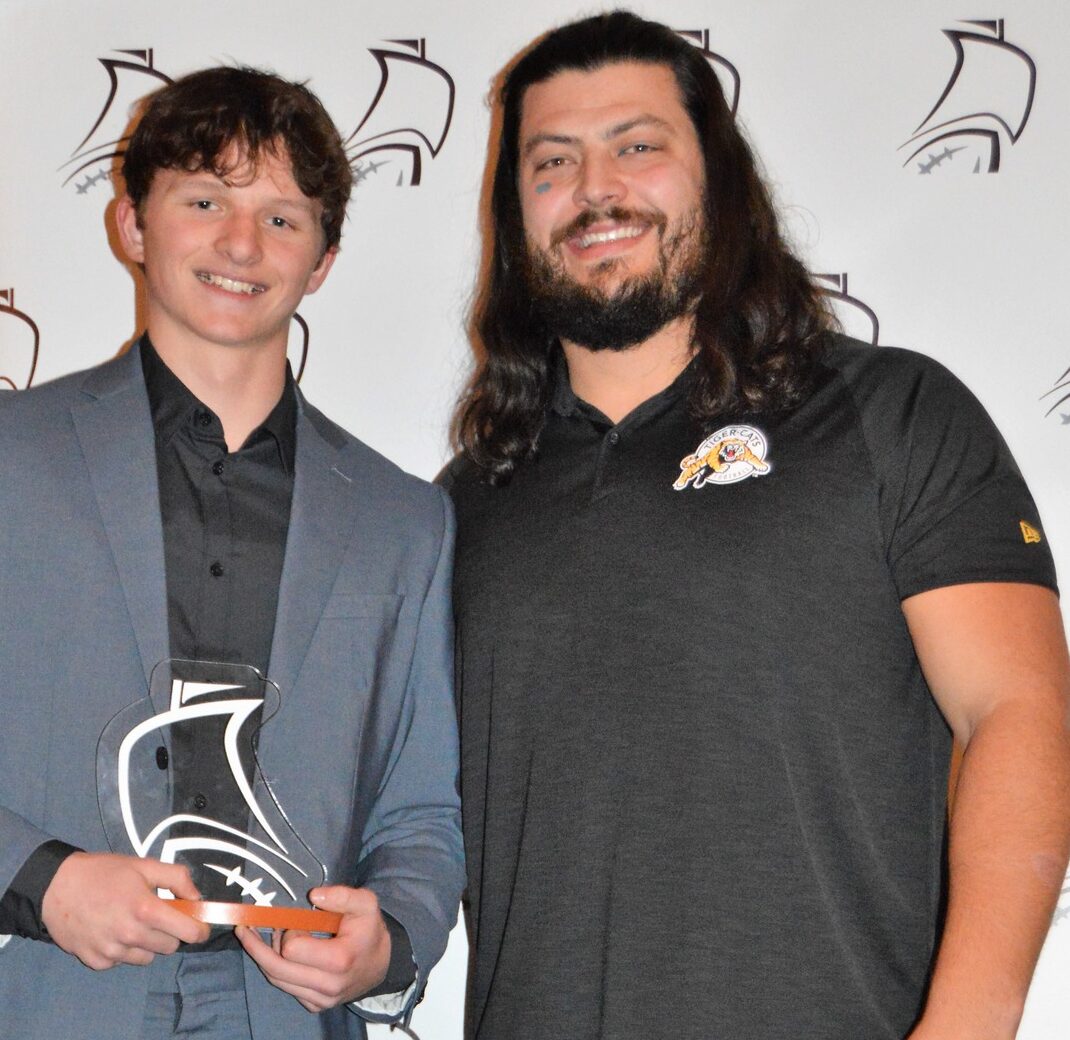 Damien Day
New Brunswick Overall U16 Defensive MOp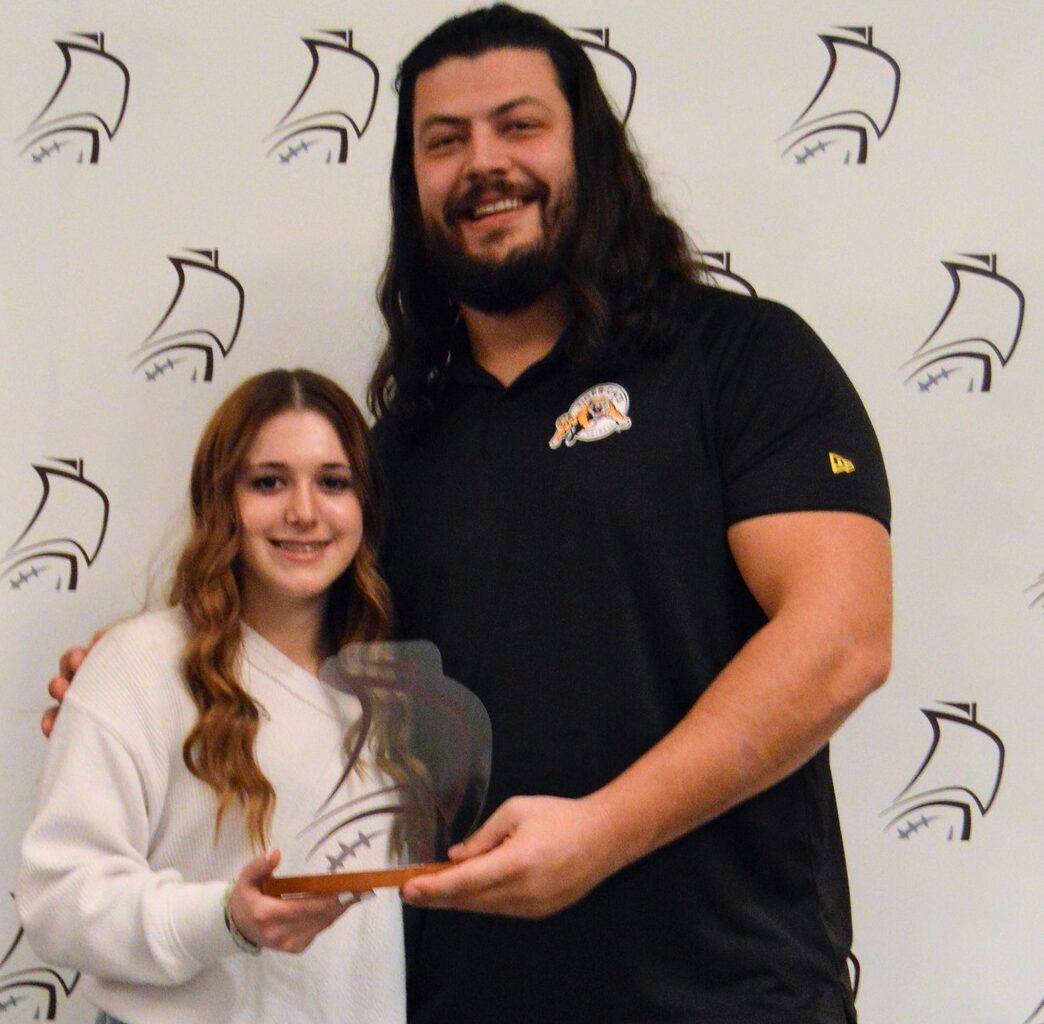 Alexia Brazeau
Varsity Girls Offensive Most Outstanding playeR
Alexia is the definition of a complete football player. First and foremost is the team, then her commitment to her teammates, respect for coaches, and a willingness to do anything asked for the team to succeed. Statistics are the farthest thing from her mind yet she has stats, like amazing stats!!!
This season she led the Stingrays to the Varsity Girls Championship with an overall record of 4-2 as the starting running back. Over 6 games Alexia had 62 carries for 1,031 Yards and 11 touchdowns. Her performance in the 2022 provincial final was one for the ages as she went off for 21 carries, 391 yards and 5 touchdowns.
She also contributed as a receiver amassing just over 100 yards over the 6 games, recovered 2 kicks on kickoffs during the season and played Defense when called upon racking up numerous tackles, but enough about football.
As a human being Alexia is a wonderful person, respectful, easy to coach, never an issue with effort or attitude. Most of all she is humble, as a 15 year old young woman, almost unaware yet of her brilliance and talent on the field. Underneath, she is driven to succeed and already she has talked of her desire to one day play for Team Canada at the Worlds. Her coaches believe she will do it, she believes she can, so she will.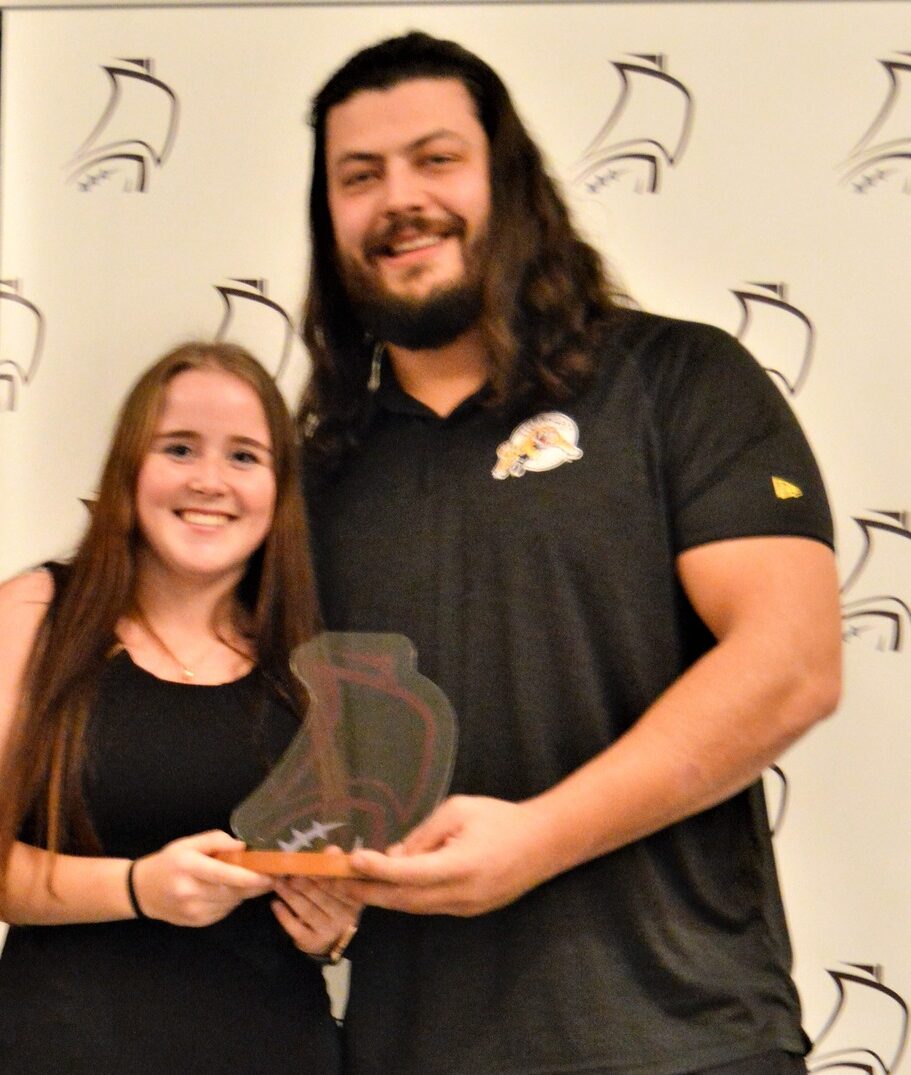 Alex Purdy
Varsity Girls Defensive Most Outstanding playeR
Alex had an amazing season off her recent Overall MVP selection for Team NB at the U18 Championships this summer in Saskatchewan. She was a team leader in tackles averaging over 5 per game, made a critical interception in the semi final vs Saint John and was a wall of Defense in the final versus the CAMFA Predators.
Purdy also contributed offensively when asked, scoring a touchdown in the championship game, served as the teams punter all season and was a kickoff returner. A multi sport athlete (she is really good at hockey too) she is clearly capable of competing at a high level in football and might very well some day play for Team Canada, the sky is the limit with Alex.
Although these are all fine points her greatest asset is her integrity. Her respect for humans and the game of football shined bright this year. She knows how to trust her gut when dealing with hard decisions and that makes her a great leader. Some day she will do great things beyond Football.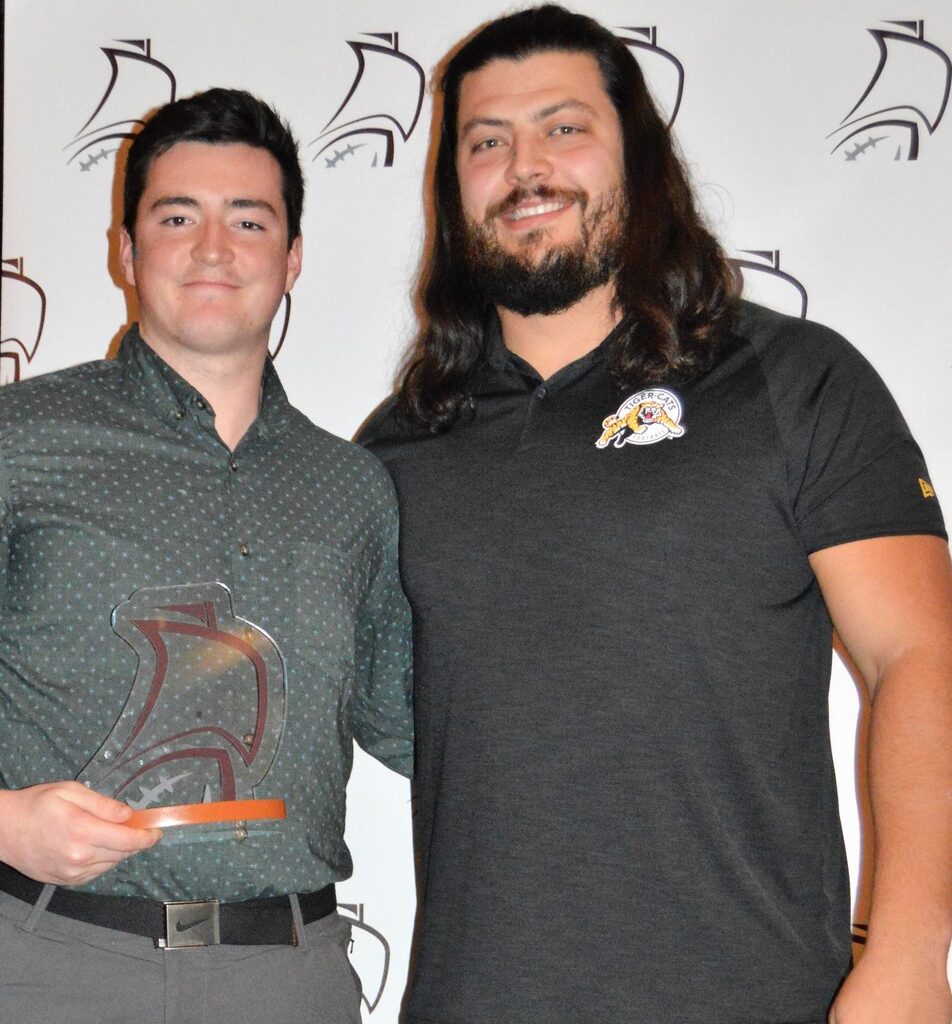 Hunter Sturgeon
Adult Men's League offensive Most Outstanding playeR
Hunter Sturgeon has been voted back to back Most Outstanding Player on Offense. This past season in 7 games he ran for 15 touchdowns with the UNB Red Bombers and passed for 10 more while throwing 0 interceptions.
He plays his best in the biggest games, running for 5 touchdowns and throwing for 1 at Holland College in a game that clinched first place for the Red Bombers. In the Atlantic Football League final Hunter ran for three touchdowns.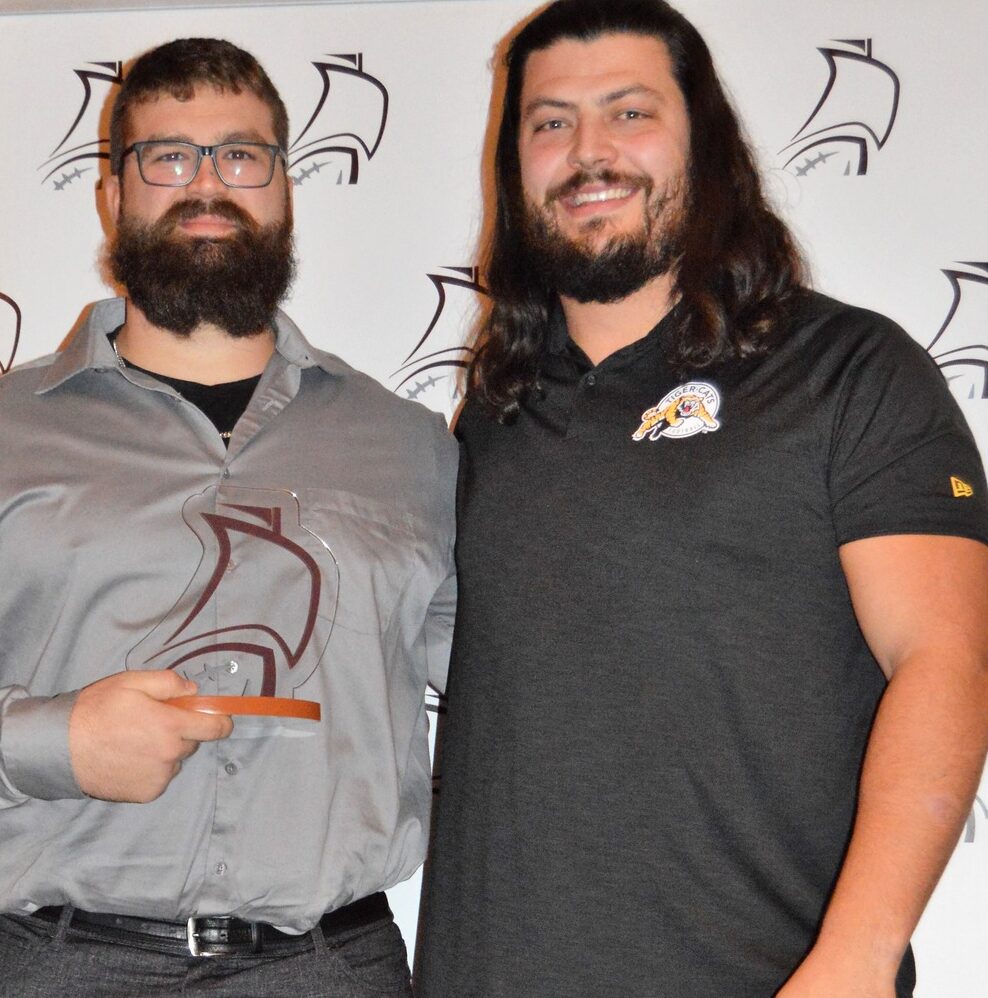 Gabriel St Germain
Adult Men's League Defensive Most Outstanding playeR
Gabriel is your prototypical Defensive Lineman. He is a force coming off the ball and a man his size should not be that fast. Any kind of block you throw at this guy, whether it be a pulling guard or a double team, it doesn't matter, he's causing opposing offenses problems. Over half of his tackles were tackles for a loss last season for the Maritime Football League champion Moncton Mustangs.
St Germain was a team captain and a vocal leader. In 2022 he accumulated 23.5 tackles (15.5 tackles for a loss, 7 sacks) with 2 forced fumbles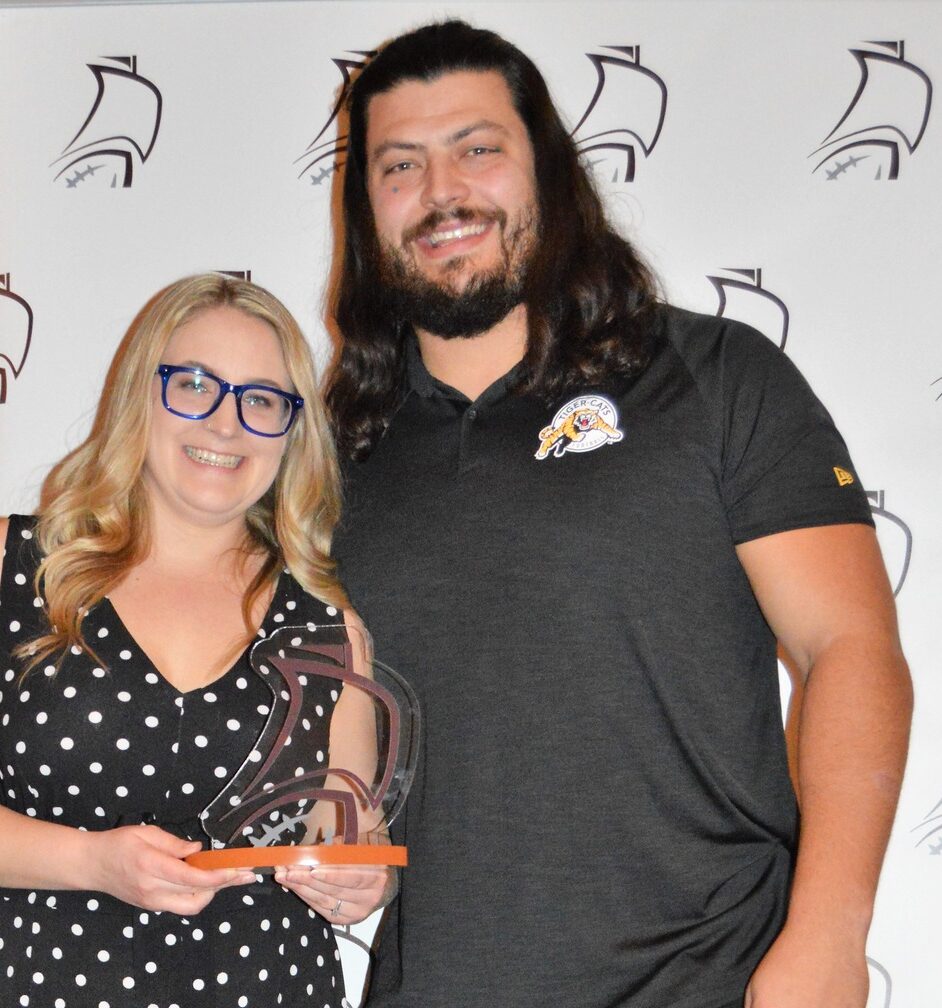 Kait Girouard (accepted by Jen Brown)
Adult woMen's League offensive Most Outstanding playeR
You could not ask for a better player on offense than Kait. She was the offensive engine that led the Storm to an undefeated season and a share of the Maritime Women's Championship. Even though teams schemed to keep her under wraps in the Storm backfield, they were unable to stop her from having her way with any defense in front of her. She scored multiple touchdowns in 4 games and reached over 100 yards rushing from scrimmage in 5 games.
Whether she was asked to gain 2 hard yards for a first down or run a sweep for a TD, Kait did what was asked of her every time. She is also an incredible blocker for her teammates when she is not running the ball.
Kait is a quiet leader, that leads by example, and helps younger teammates be better by showing them through her game how she executes and approaches each series of a game.
Regardless of age, league, or gender, Kait Girouard is pound for pound, one of the best RB's in the province.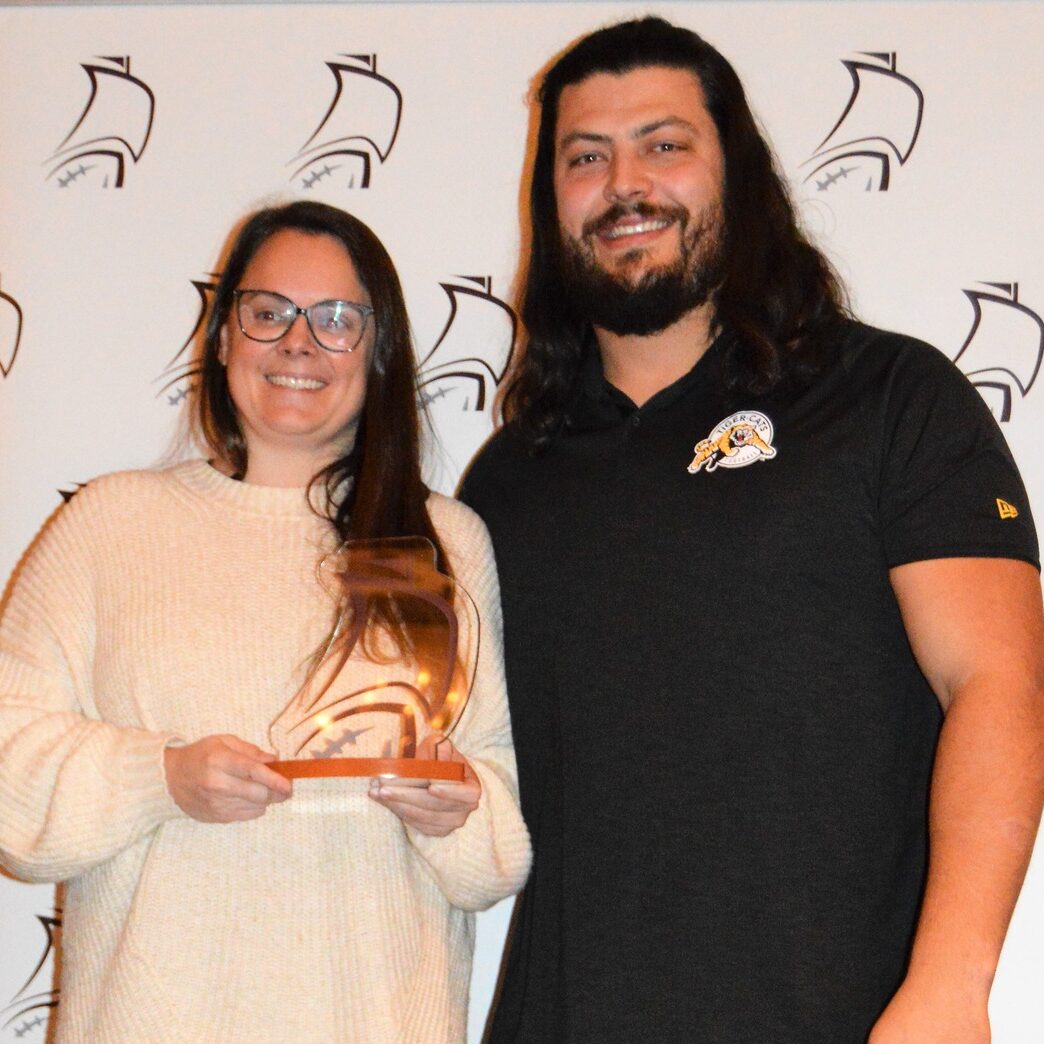 Jamie Mclellan
Adult woMen's League defensive Most Outstanding playeR
Jamie McLellan is the epitome of Team Player. Her leadership, drive, and passion for the sport of football is unmatched. She is not a bang the drums, screaming, "look at me" type of player. Rather, she leads by example; she is the type of leader that knows there is always more to do to get better, and she sets such a high standard for herself that it becomes infectious among the team. In essence, she is the Moncton Vipers, and there may not be a team if she was not an integral part of it.
During Covid, and even before, she was there, making sure that the team stuck together, being at every practice, helping organize games/practices/etc., but most importantly, being a football player and human being that everyone wants to play with, and be like. Being around her has made the coaches and players around her better.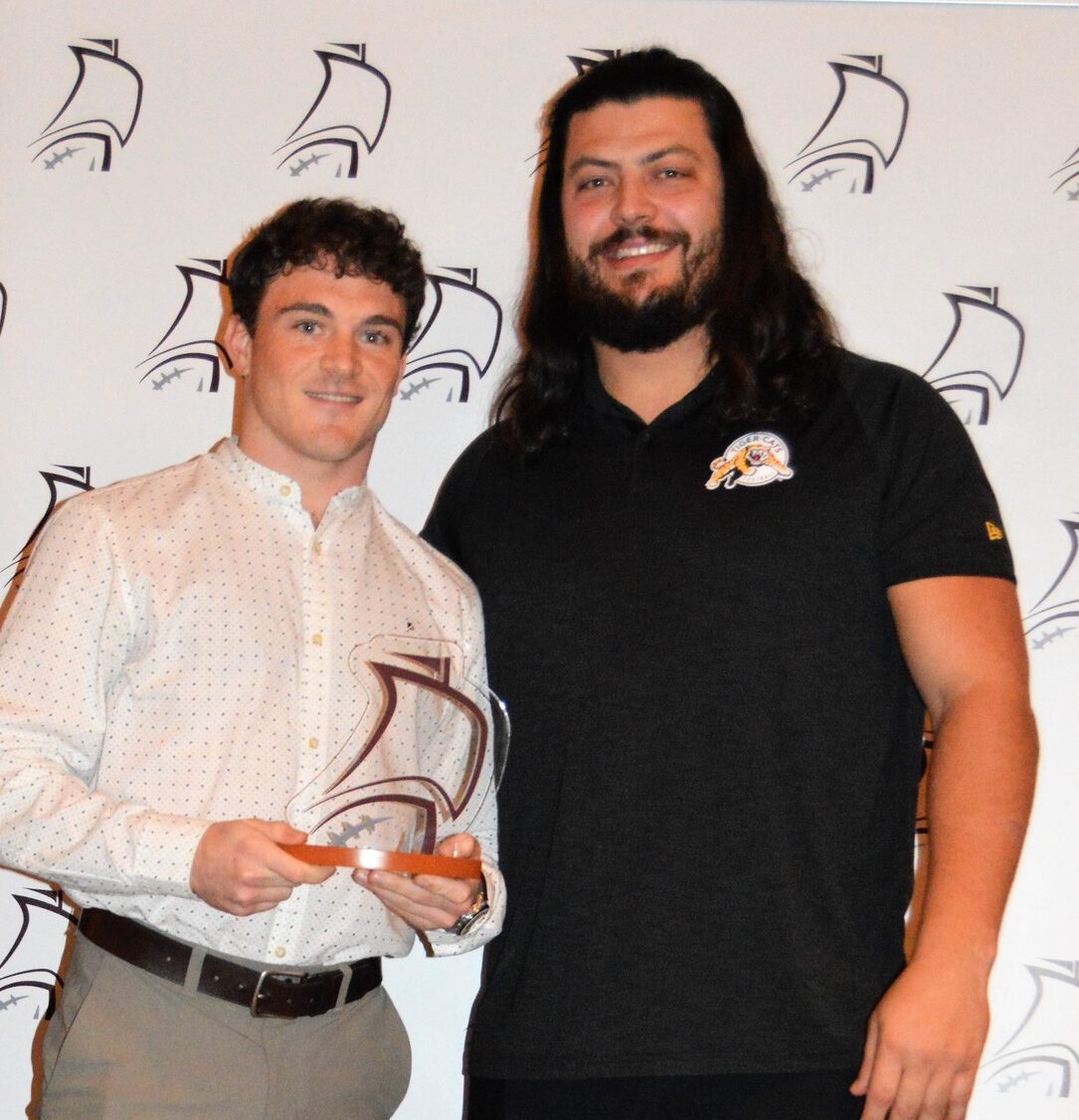 aidan o'neal
Usports Offensive Most Outstanding NB playeR
Queens University receiver Aidan O'Neal is this years Football New Brunswick USports Offensive Player of the year. O'Neal made the change to the OUA this year after previously playing for the Mount Allison Mounties. He made an immediate impact in the competitive OUA conference. Aidan led the Gaels in all purpose yards and was 2nd on the team in receiving yards. O'Neal's efforts helped his team to a 7-1 record and a Yates Cup final birth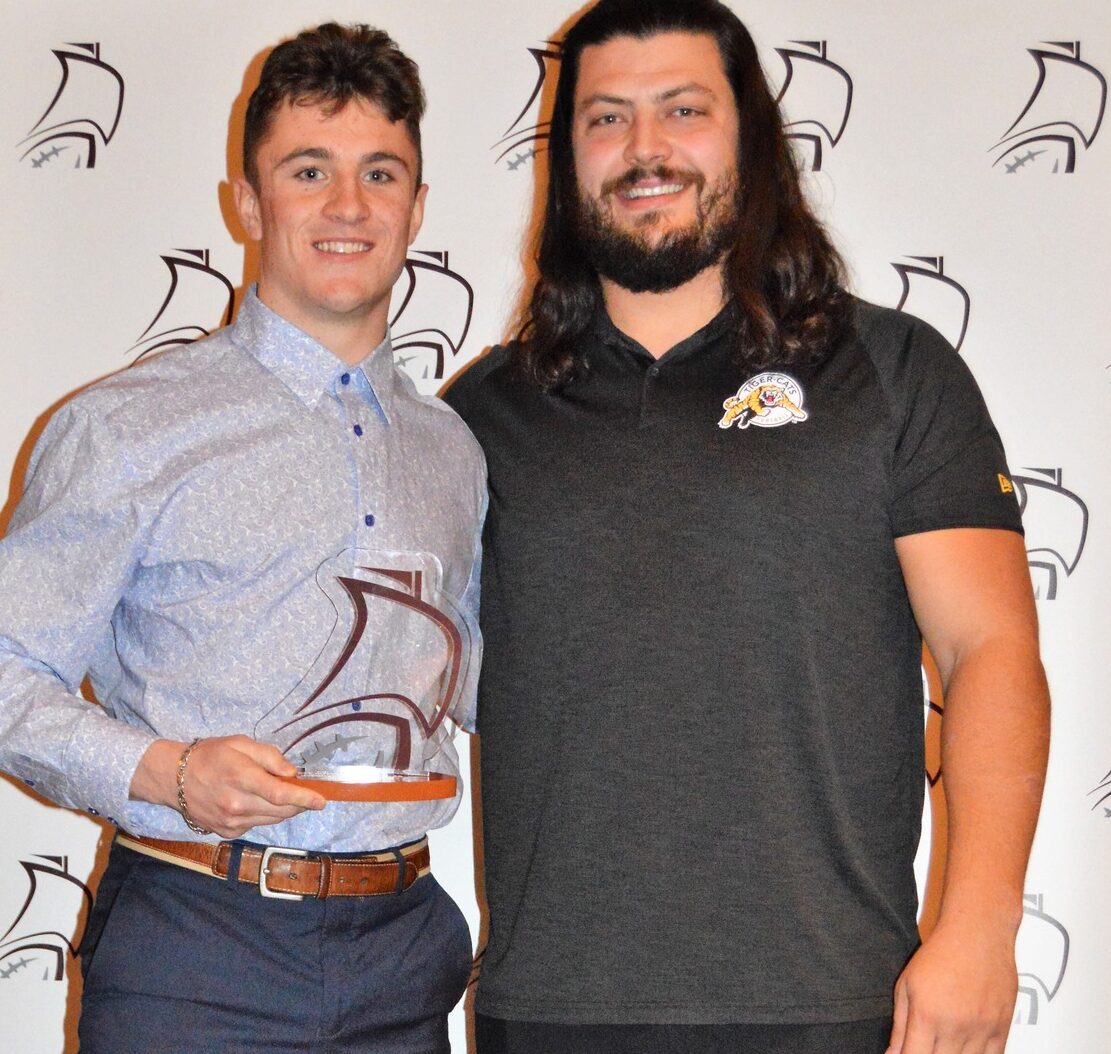 Owen o'neal
Usports Defensive Most Outstanding NB playeR
Mount Allison Mountie Linebacker Owen O'neal is this years Football New Brunswick USports Defensive Player of the Year. In his 3rd season as a Mountie O'Neal led the team to a Loney Bowl appearance. Owen placed 2nd in the AUS in tackles and ranked in the top 5 for passes defended, including 3 interceptions. For his efforts he was named an AUS All Star.
The future is bright for Owen as he enters his 4th season with the Mounties.

U18 Girls Team – National Bronze Medalists
Last July history was made with the inaugural Under 18 Women's National Championship in Regina, Saskatchewan. Football New Brunswick was the only province who was able to enter a team east of Ontario and joined provincial teams from Alberta, Saskatchewan, Manitoba and Ontario.
The team finished the round robin with a 1-3 record and were relegated to a consolation series against Manitoba and Ontario. After defeating Manitoba 13-3, they played Ontario for Bronze. Down 12-2 at half, the team rallied back to win 15-12 becoming the first New Brunswick team to medal at a National Championship!
The team was lead by a committed coaching staff under Head Coach Nick Murray. Several players are eligible for the next two National Championships as we look to continue to build off this momentous achievement!
volunteer award recipients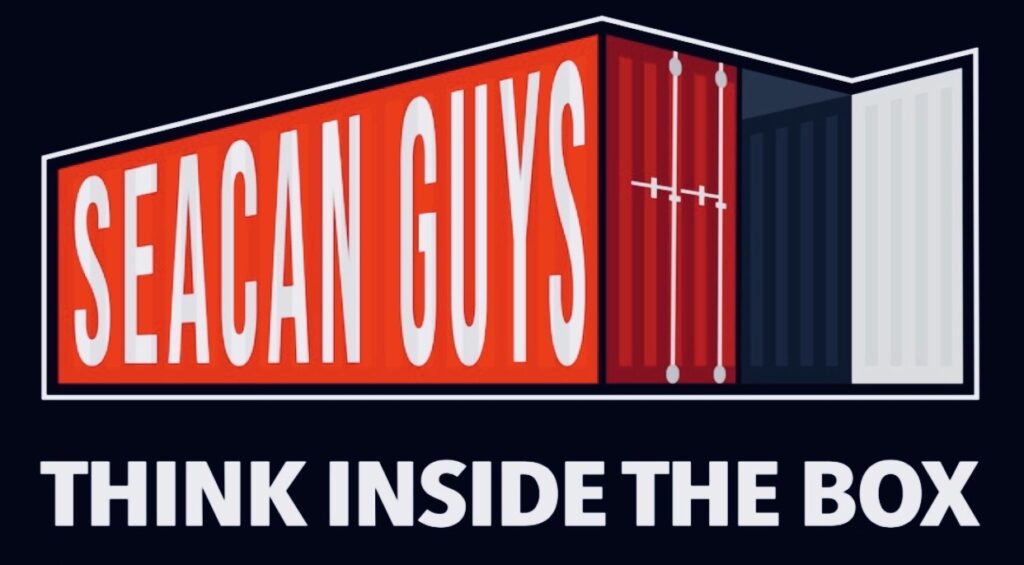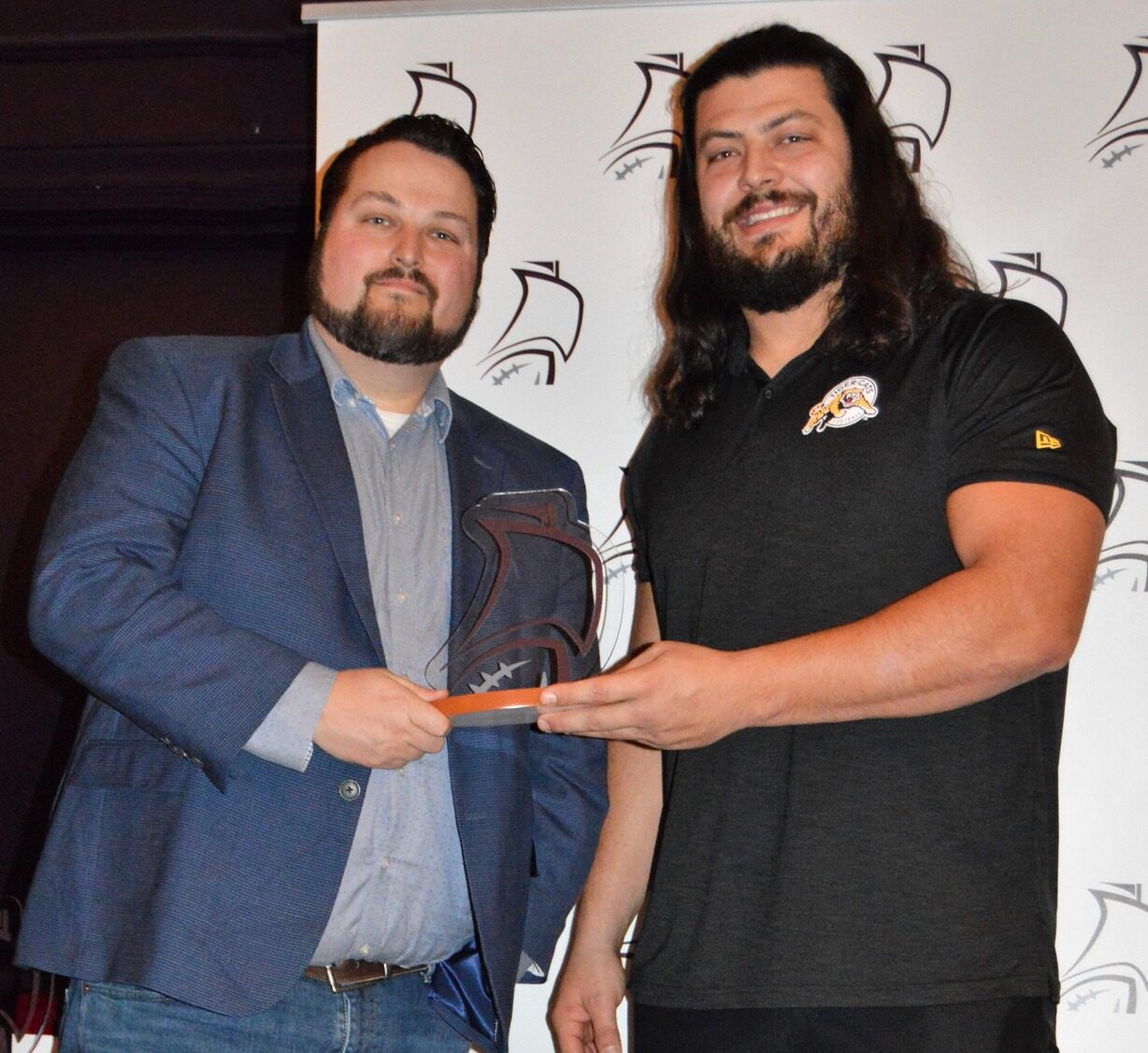 Brian von richter
u12 volunteer of the year
This year Brian coached a U12 team and was CAMFA's U12 Coordinator, he sat on the board, and he brought a positive approach and communication style to some very challenging conversations with other coaches, parents, and other stakeholders. His style when he engages with others is consultive, he seeks to understand where they are coming from while he establishes common ground. After understanding the other side of the coin he is in a position to better offer advice, evoke change, and bring resolution to the situation.
Brian's team had an amazing season! During the season he always maintained the team's focus on the controllables – attitude and effort – and although they did not ultimately win the U12 Championship, after the loss his team was quick to recognize that they did everything within their ability to come out on top, however, that day the other team had more to offer. To see U12 athletes understand and embrace this life skill is amazing.
Beyond attitude and effort, Brian focused on skills and technique, his goal was not to try to out-scheme another team but to have better-developed athletes – this was evident when you watch his team play.
In football, we play a game that teaches life lessons and prepares our athletes for what life is going to throw at them – there are few that teach the athletes these lessons as well as Brian.
CAMFA is extremely proud and blessed to have him as a member of their Family and couldn't be happier to see him be recognized for this award.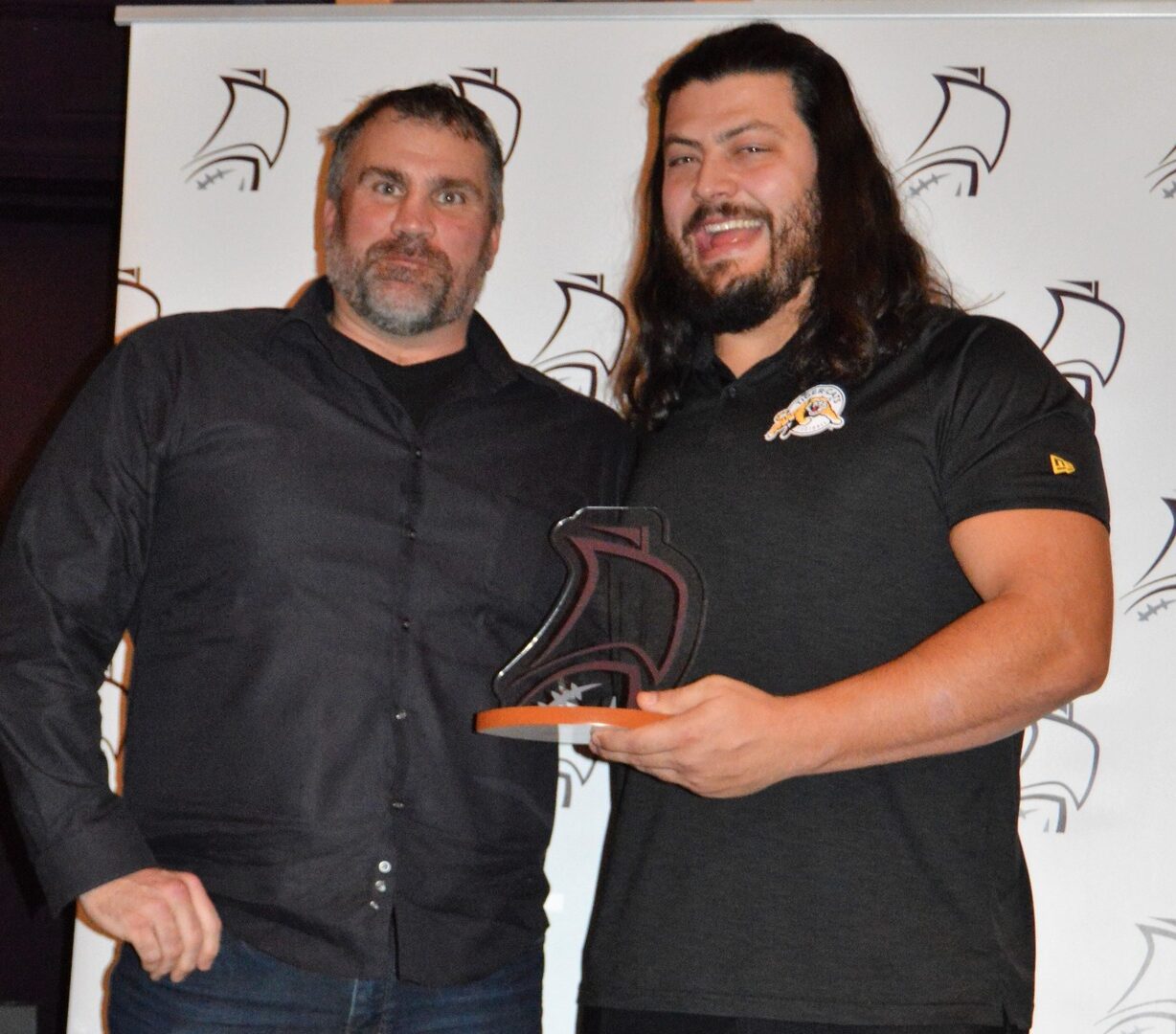 Scott Eatmon (accepted by scott mcnamee)
u14 volunteer of the year
Scott pushes each player to be their best both physically and mentally. Sometimes he sees potential in players that they don't see, for example there have been a few times when a player will join the team convinced they want to play position x but after watching them he might move them to position y even if they don't see it at first. He works with them to see where their best fit is on the team in order to see each and every player have fun and play safe. He delivers feedback to allow the players a chance to improve.
Scott has done a great job growing the U14 program in Fundy. He has recruited many new to football players and as a result had enough West Side Saint John players to make their own team
Although Scott is a shift worker, he uses his own vacation time or rushes from work to make it to the games and almost all practices. He is committed to the players and the sport and it shows in each time he is on the field.
It takes a great coach to make each player feel special, confident and safe when they are out on the field while at the same time having fun and for that reason and the ones listed above Scott Eatmon deserves to be recognized as the U14 Volunteer of the year.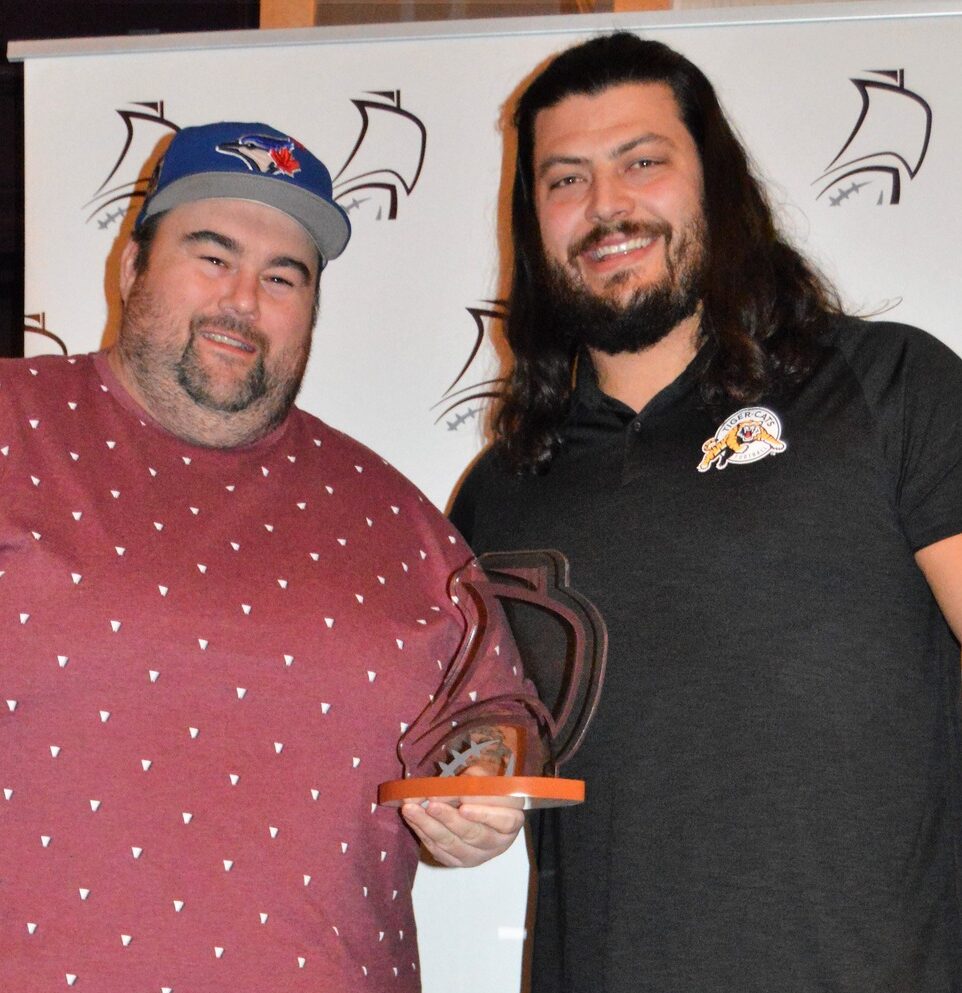 dave cave
u16 volunteer of the year
As a first time Head Coach, Dave established a great culture early on in the season of learning and playing together. Behind his leadership, the team became united and went undefeated winning the U16 Provincial Championship and FMFA championship.
Dave always encouraged players to support other programs with his Cowboys doing sticks at all of the Seawolves games. Dave is a kind and unselfish coach. That approach made his players connect to him quickly and build a bond of trust and camaraderie that led to the great success last Fall.
Dave also dedicates his time as an assistant coach on the KVHS Blue Knights, coached on the U14 Provincial Team and is involved with his son at the flag level.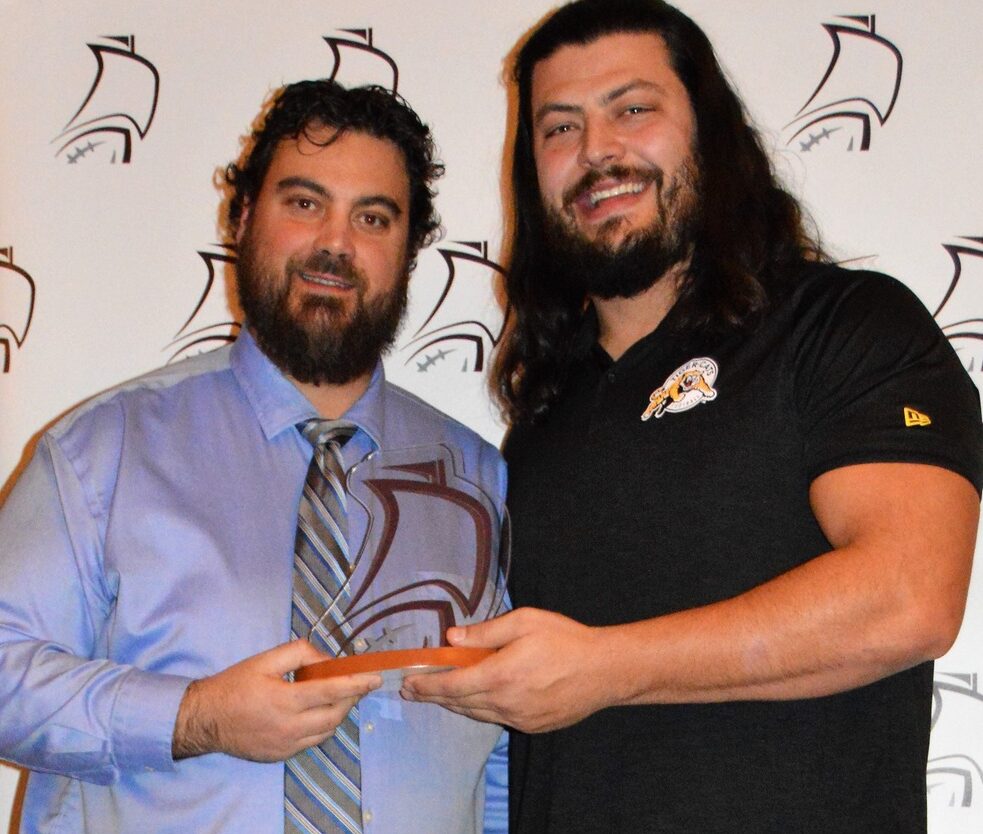 Nick Murray
Women & Girls volunteer of the year
Nick Murray has a major goal in his volunteering coaching capacity and that is to grow Women's Football here in New Brunswick. Guiding the first ever U18 Women's Tackle Football team to a Bronze medal at the first National tournament is historic and monumental for not only women, but every football player in New Brunswick to recognize the opportunities.
Nick does not just teach football. He is a motivator and passionate individual who wants all women to succeed in the sport of football. Nick is integral to the Moncton Vipers Women's Tackle Football team spirt and growth. He will recruit any individual to be part of this sport that we all love and aim to remove any barrier that may be presented.
We do not get to see many coaches who care this deeply and passionately about Women in sport and recreation and specifically in Football.
Being the first Head Coach of the girls team was no easy task. The effort put into setting a vision for the team, recruiting the players and bringing the girls together, was no easy feat. The adversity faced in Regina, was difficult to handle. Nick did it with poise and class.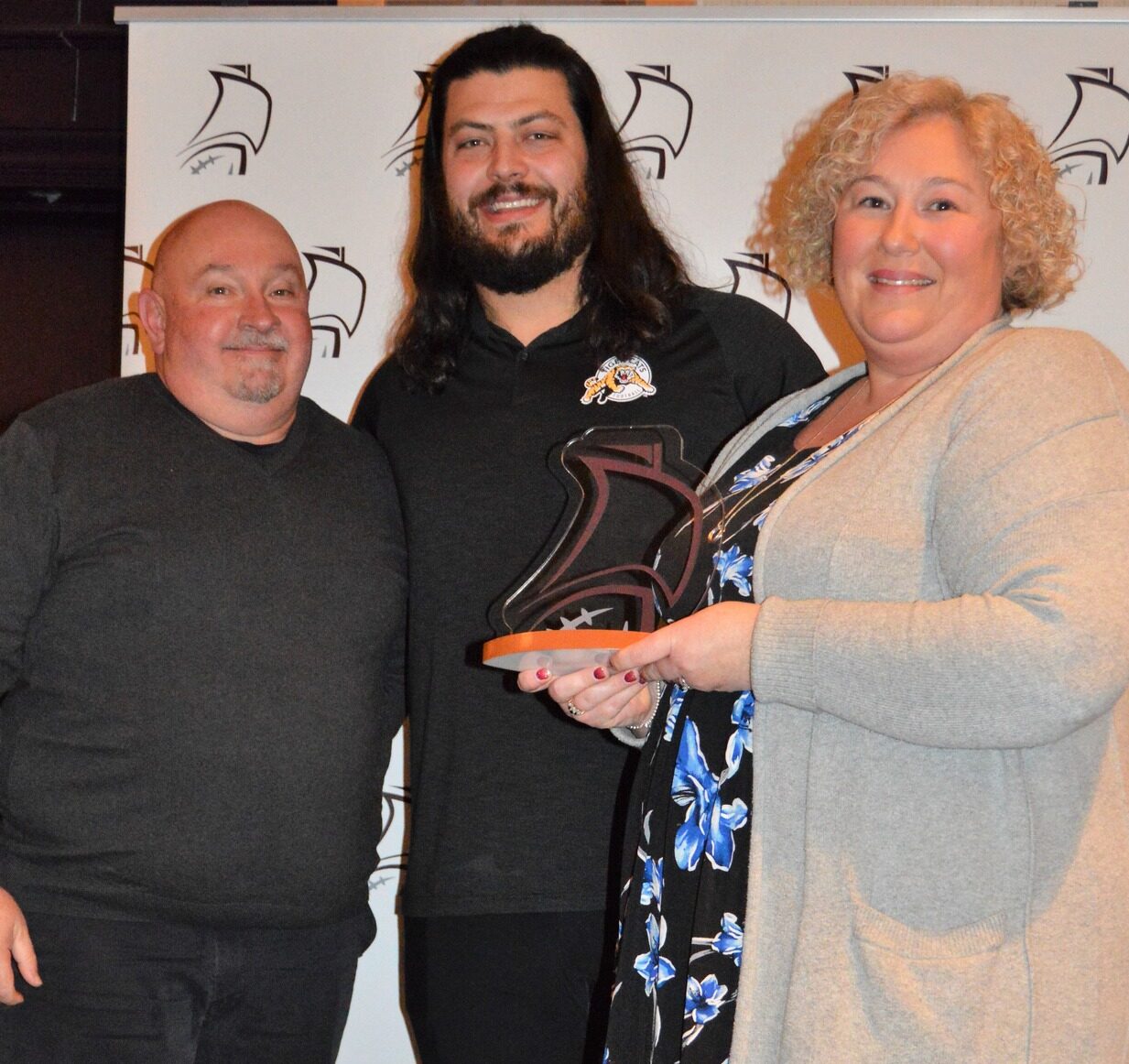 Mike and Sylvia Plume
Gridiron Award
The Plume's have re-energized CAMFA and brought football back to life after the pandemic. Their efforts have been tireless all season long, from Sylvia stepping up and doing the U14 & U16 inter-lock schedule and Mike coaching both the U14 Black Kats and the Varsity Girls Predators, these two have been instrumental in the resurgence of Football in the Capital City.
When GMFA needed additional helmets for U10 players, Mike stepped up and in the true sense of community CAMFA sent 15 helmets down to the GMFA so they could gear up those kids. The Plume's have been a welcomed addition to the 506 football community and are very deserving of this award.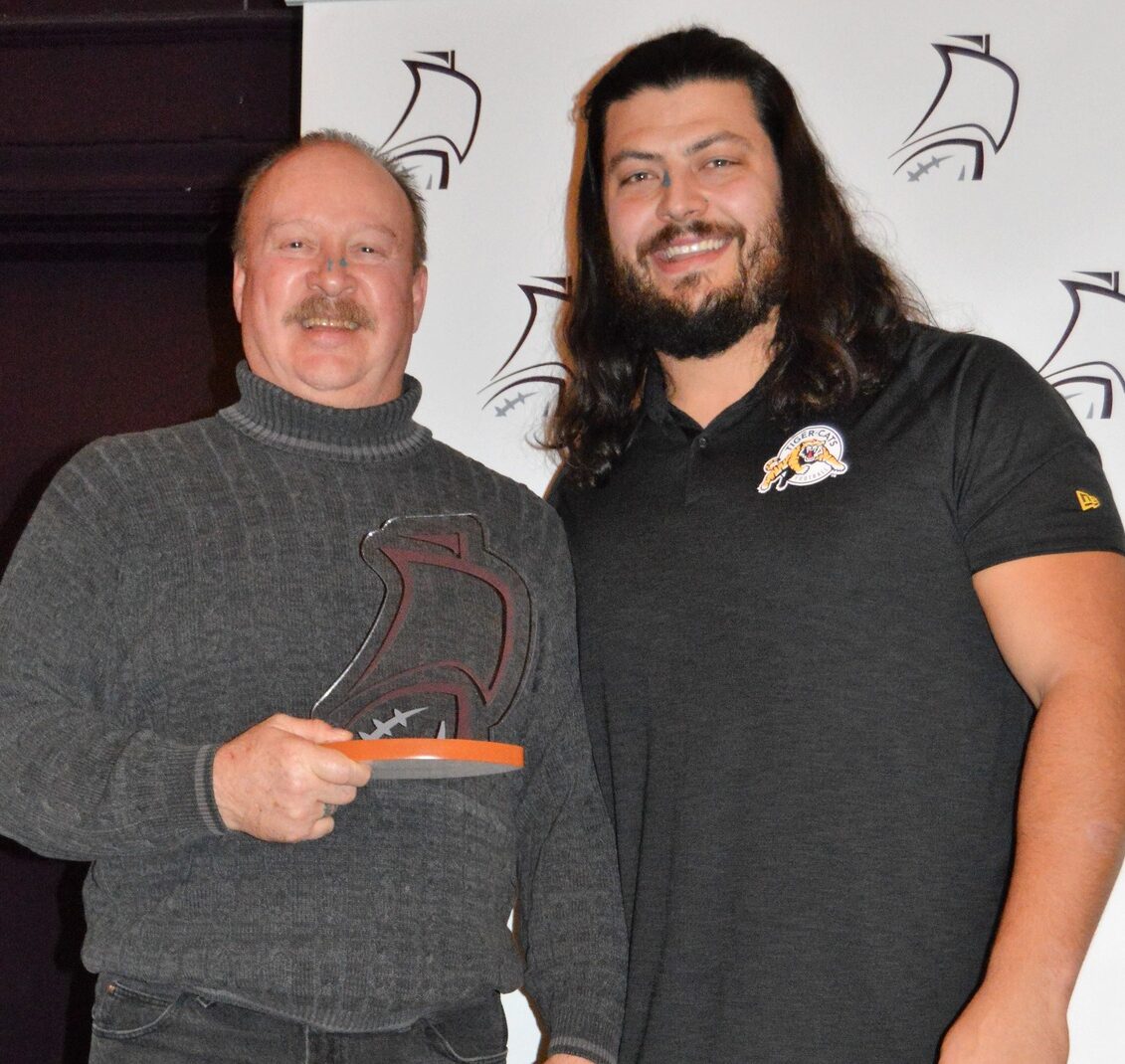 Derrick Stenhouse
Flag volunteer of the year
Derrick has been the driving force of GMFA U8 and U10 for several years now and continues to bring great enthusiasm and effort to this introductory level program for GMFA players. Pairing with Fundamental Movement Skills & Physical Literacy certified trainers such as Dr. Michel Johnson, Derrick trains the kids in functional movement as it relates to football. He teaches all elements of the game, throwing, catching, blocking, tackling, rolling, jumping, running – the list goes on!!! He also brings on new coaches (parents) pulling them into the program and ultimately assisting the GMFA with long term coaching at every level. He provides detailed Practice Plans, and allows coaches the autonomy to develop and have confidence in their teaching methods while providing feedback when necessary.
This season he ran both programs, U8 had a total of 28 players and U10 had 45 players. He provided a program in both age groups with clear learning in stages, with the U10 culminating in a final day of mini-games with announcers, refs and all things football to give the kids an amazing experience. Derrick's enthusiasm for the game is clear in his body language and efforts and the kids learn to have a love of the game and ultimately a ton of fun!!!! Derrick is committed to his program, to his coaches and most importantly, his athletes. He is a key promoter of the game in this Province and helps kids love the game at an early age.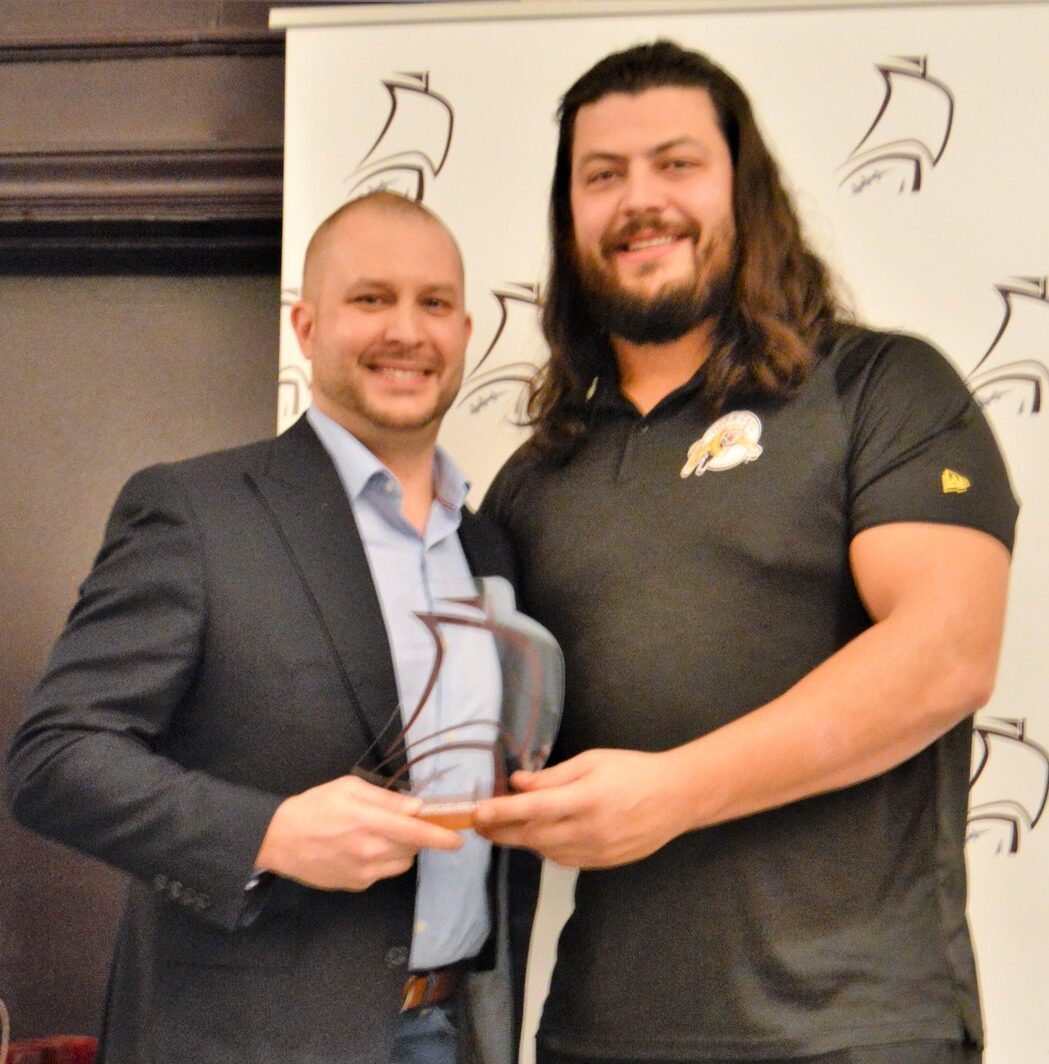 josh dickinson
adult volunteer of the year
There isn't enough time in a day to give every reason why Josh deserves this award. Josh took over the Mustangs program as President in 2018 after joining the executive in 2017 and has spent every year since improving the teams image within the city as well as the teams standings in the Maritime Football League, going from a 1-win season in 2015 to 3 championships during his tenure as President (not including 2020 due to COVID).
Josh has made the off-field product for the Mustangs one that rivals even some university programs in the AUS, featuring a stocked locker room each home game, where players do not need to worry about game day attire and refreshments, as Josh spends hours before each game hanging jerseys, laying out pants and socks, then collecting everything post game to be washed and reset for the next week. The players truly only have to worry about "playing football" with Josh handling everything else behind the scenes.
Josh has turned the Mustangs program into the crown jewel of senior football on the east coast, setting a standard that is not achievable without hours of hard work and dedication, which Josh exhibits on a daily basis year-round in order to ensure that Moncton's senior football team is the best in the Maritimes.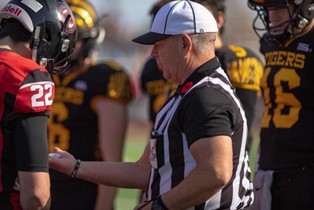 al gates
official of the year
What can't you say about Allison Gates? No official in Canada dedicates as much to the sport of Football and Basketball. Al spends his nights off the field researching film and breaking down plays for all officials to review. The number one goal of officials other than Player Safety is consistency and Al plays a huge role in trying to achieve this goal in New Brunswick. 2022 was a great year for Al as he was the Referee In Chief for the U16 Eastern Challenge in Sackville as well he was selected as the White Hat for the 2022 Vanier Cup in London, Ontario. The NBFOA and FNB have a great asset in Allison Gates and he is deserving of this new annual award as Official of the Year.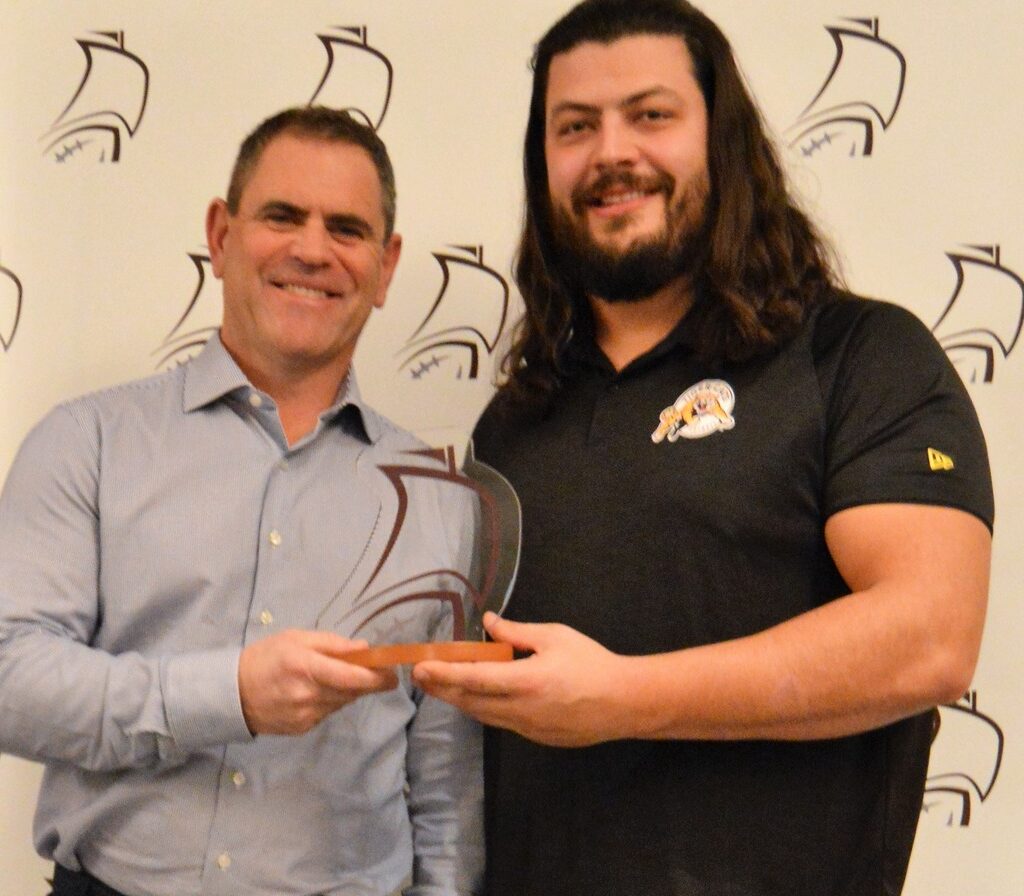 ian mcintyre (accepted by scott o'neal)
15 years of service award
Ian McIntyre has been a volunteer with Sackville Minor Football since 2007 when his son started Titan Football at the Atom level of play. He coached through the different levels following his son Logan up through the Bantam program. Once Logan moved on to TRHS football, Ian continued to coach at the Bantam level until the 2011 season. From 2011 until current Ian has continued to coach either at the PeeWee or Atom levels depending on the coaching need. Ian also took on the role of the President of the Sackville Minor Football Association for several years and continues to play a large role in the association in coaching as well as maintaining a role within the association itself. Ian has been a huge contributor to the success of Titan Football in Sackville and we look forward to his continued contribution.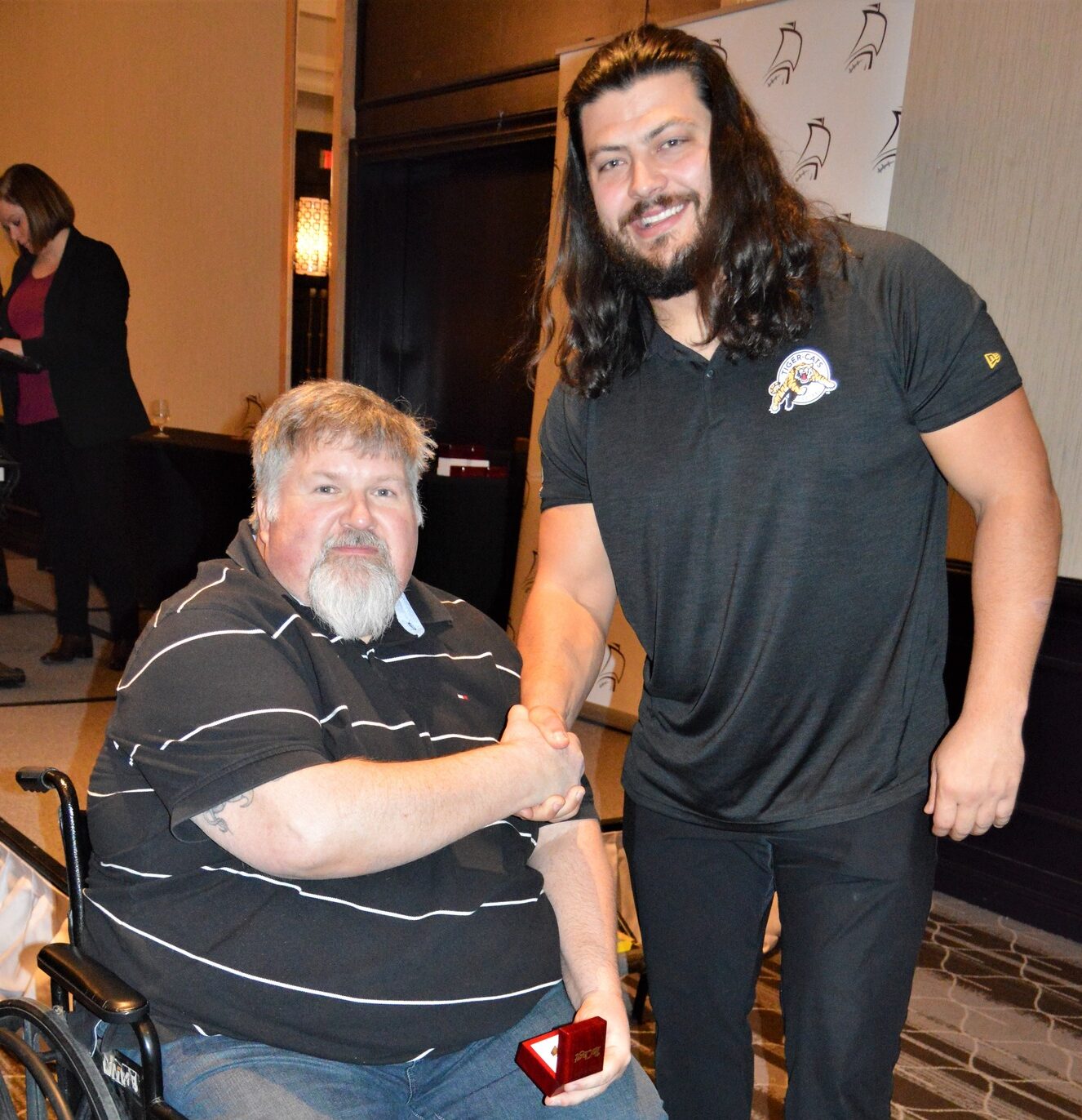 andrew allaby
25 years of service award
Abs began his coaching career in 1991 when he joined Mike Dolimore and the West End Bombers of the Fredericton Minor Football Associations Pee Wee league. In 92 he switched to the City Center Axemen and 93 – 95 coached with Jeff Taylor & Isaac Grobe with the Southside Rams pee wee teams. He left for a few years to play and coach lacrosse in Fredericton/Maritimes.
The fall of 2001 saw him return to coaching at the request of Jeff & Isaac as they were coaching with the Bantam Lions. He stayed with the program for the 02 & 03 seasons. In 2004 he was recruited to be part of the new coaching staff of the Bantam Black Kats as the defensive coordinator. He remained with this program till the end of the 2007 season. During his time there the team was in the provincial finals twice and saw the team post a perfect season going 10 – 0 and their defense not giving up a single point all year. During the period between 2002 & 2007 he helped with CAMFA's spring elite & developmental programs. In 2004 he was one of the coaches of the Fredericton entry in the Maritime Women's Football League, the first women's tackle football league, the Lady Gladiators. He coached with the team until the end of the 2006 season.
In 2008 & 09 he was one of the coaches with the Stampeders flag football team, a team which his nephew was playing on. During this time he also helped with the Albert St. Eagles Middle School team. In 2010, he moved to coach with the Devon Wildcats Middle School team and coached them to the end of the 2012 season ending with a provincial championship, the first for the school/team. 2013 Abs moved to the Bliss Carmen Eagles Middle School team to once again coach his nephew for his 2 seasons at Bliss. In 2015 & 16 he made his return to the Bantam Black Kats & capped his coaching career off with a provincial championship and retired from coaching after that.
On the field, Andrew has served as a position coach, defensive coordinator, and head coach over the years. He has had the pleasure of coaching many fine players and always enjoyed their success as they moved on through the different levels of football. Off the field, he has served as fundraising, flag football and middle school coordinator, game scheduler, junior official coordinator, junior official, game timer for both minor, varsity and senior men's & women's games, president of CAMFA (8 years) and VP of Football NB (5 years).
As you can see not many people have dedicated themselves to football in New Brunswick as much as Andrew Allaby over the past 25 years and we are so thankful for his time, energy and commitment to making our sport better.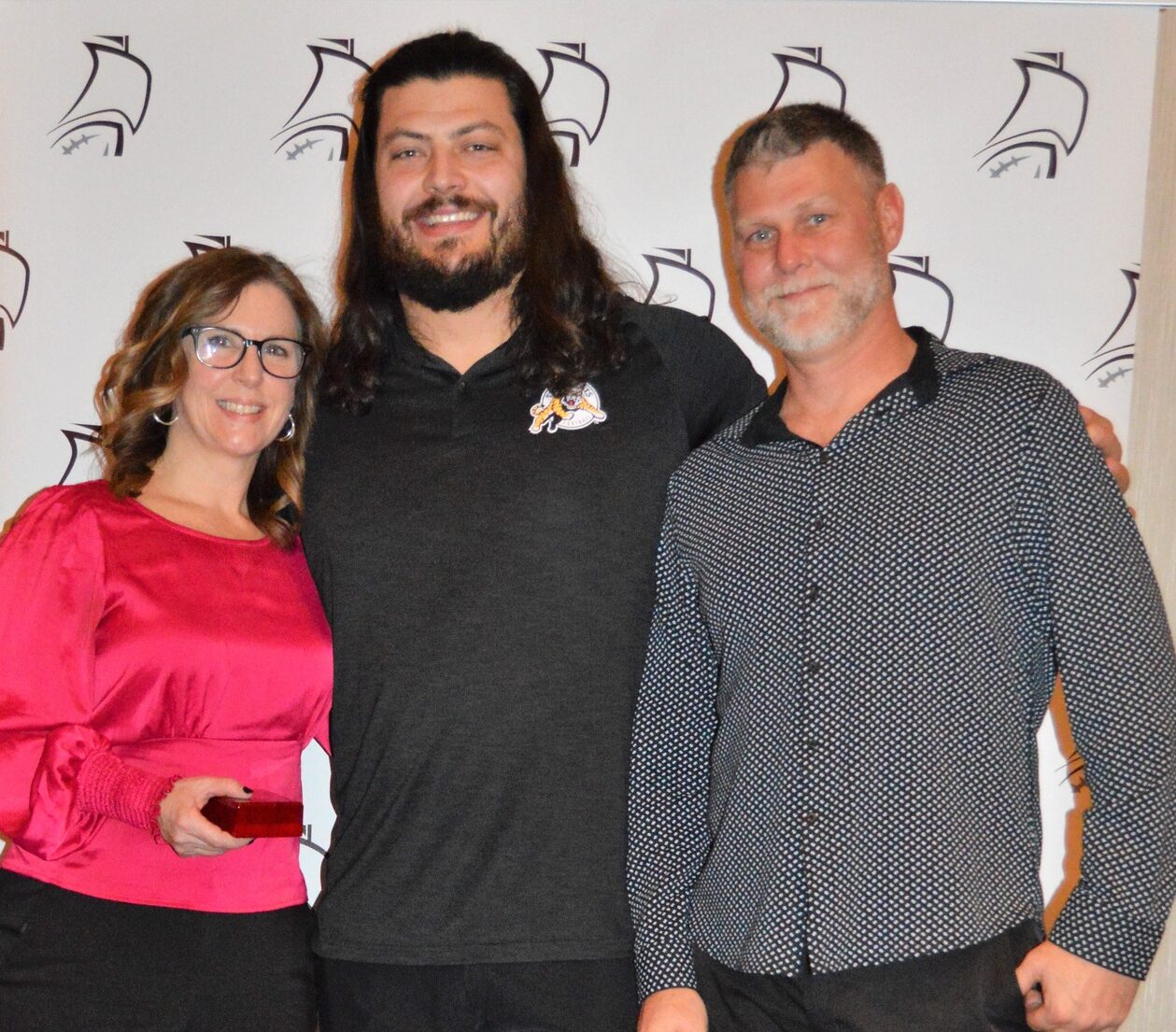 Jeff Taylor
25 years of service award
Jeff played football for the varsity Black Kats in 1991 & 92. He was a member of the U19 provincial team in 1992 & 93. After graduating from UNB he went to New Zealand and played for the Tamaki Lightning in 2001 & 02. He was also a mainstay with the senior men's team out of Fredericton retiring in 2012 after a 12 year playing career.
Jeff began his coaching career in 1993 with the former Fredericton Minor Football Association's City Center Axemen pee wee team along with 2 other former Black Kats players Andrew Allaby & Isaac Grobe. He coached with the team until the end of the 95 season. In 1996, Jeff moved up to coach at the bantam level and coached at that level until he moved on to the varsity program at Leo Hayes in 2002. He remained with the varsity Lions until the end of 2005 season when he ended up going over to the varsity Black Kats in 2006. Jeff was part of the coaching staff there until the end of 2008, when he then joined the Red Bombers in the newly formed Atlantic Football League in 2009. He coached with them for the next 6 years and in 2012 also started to coach in CAMFA's Mosquito/Atom league and did so for the next 5 years. In 2017 & 18 he coached with the Southside pee wee team and then in 2019 moved to coach with the bantam program with FHS. The last 2years he has been coaching with the varsity Black Kats team.
Over Jeff's 30 years of coaching he has held many positions on coaching staffs. He's been an assistant coach, head coach, receivers coach, offensive coordinator, defensive coordinator. Jeff's first number of years he had no kids involved but once his son was old enough he followed his progression through his different levels. Throughout the years Jeff has also been involved with CAMFA's spring programs and the senior men's Gladiators.
Thank you Jeff for your over 25 years of service to the sport of football in New Brunswick!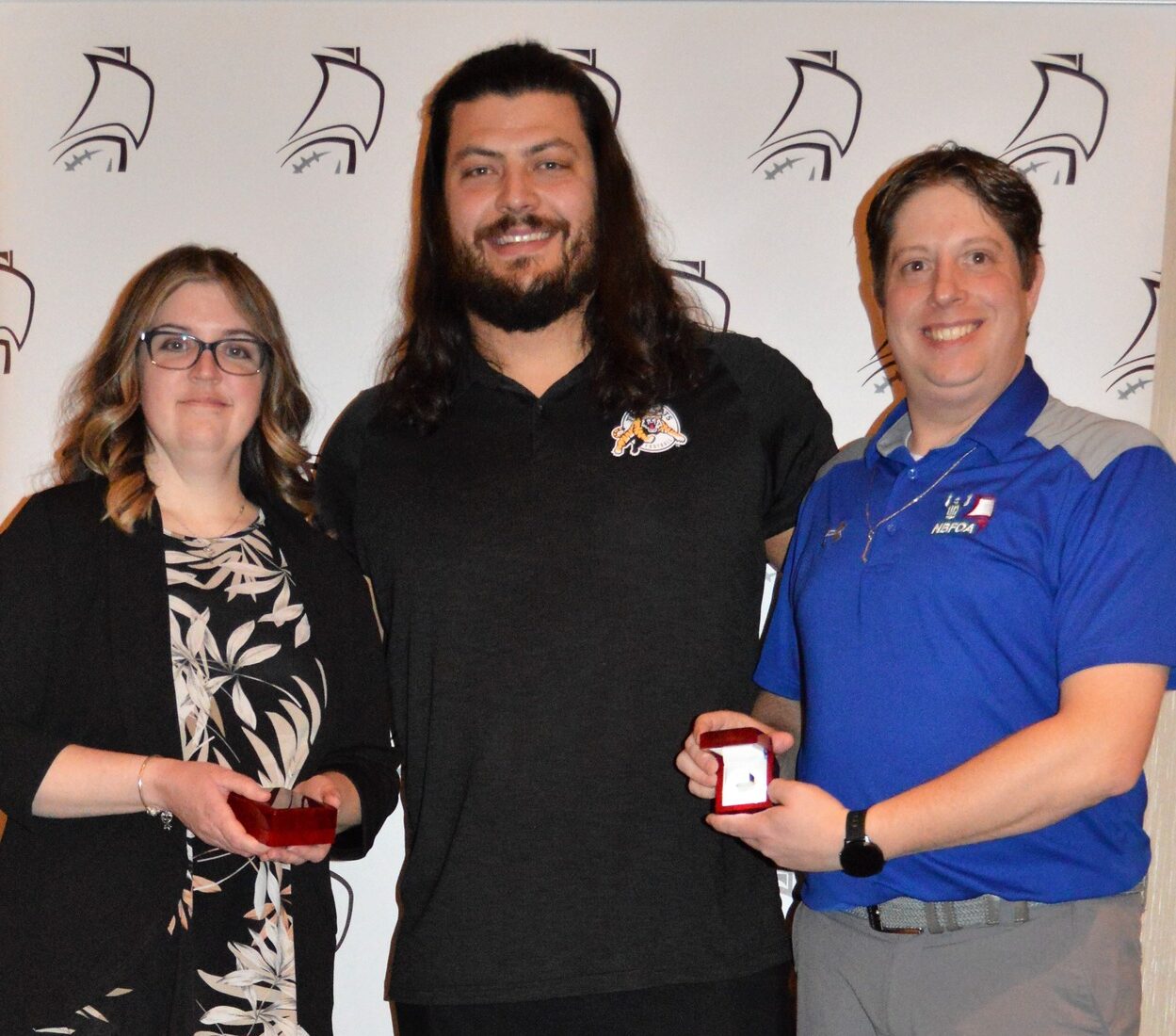 patrick fairweather
25 years of service award
Patrick Fairweather resides in the Capital area and has been officiating for 25 years at various levels of football.

He started out officiating with CAMFA in 1997, working the flag and atom leagues and worked his way up to U Sports (CIS), where he has worked for the past 12 seasons. Other leagues that he has worked in his career are the Atlantic Football League, New Brunswick High School Football League, Maritime Women's Football League, Maritime Football League, and of course continuing to be active at the minor levels (U14 and U16).

Some career highlights include:
• 3 trips to the Uteck, U Sports National Semi final, 2015 in Antigonish NS, 2018 in Quebec City QC, and 2022 in Antigonish NS.
• 2 Canada Cup appearances (U18 Nationals). One in 2012 in London ON where he worked the bronze medal game and the second time in 2014 in Saskatoon SK where he worked the gold medal game.
• 4 Maritime Women's Final's (2 as the referee)
• 5 Maritime Men's Finals (1 as the referee)
• 1 Atlantic Football League Final
• Multiple High School finals, with the most recent being this past season (2022 – 12 man AAA)
• Multiple U14 and U16 Provincial Finals at all positions on the field.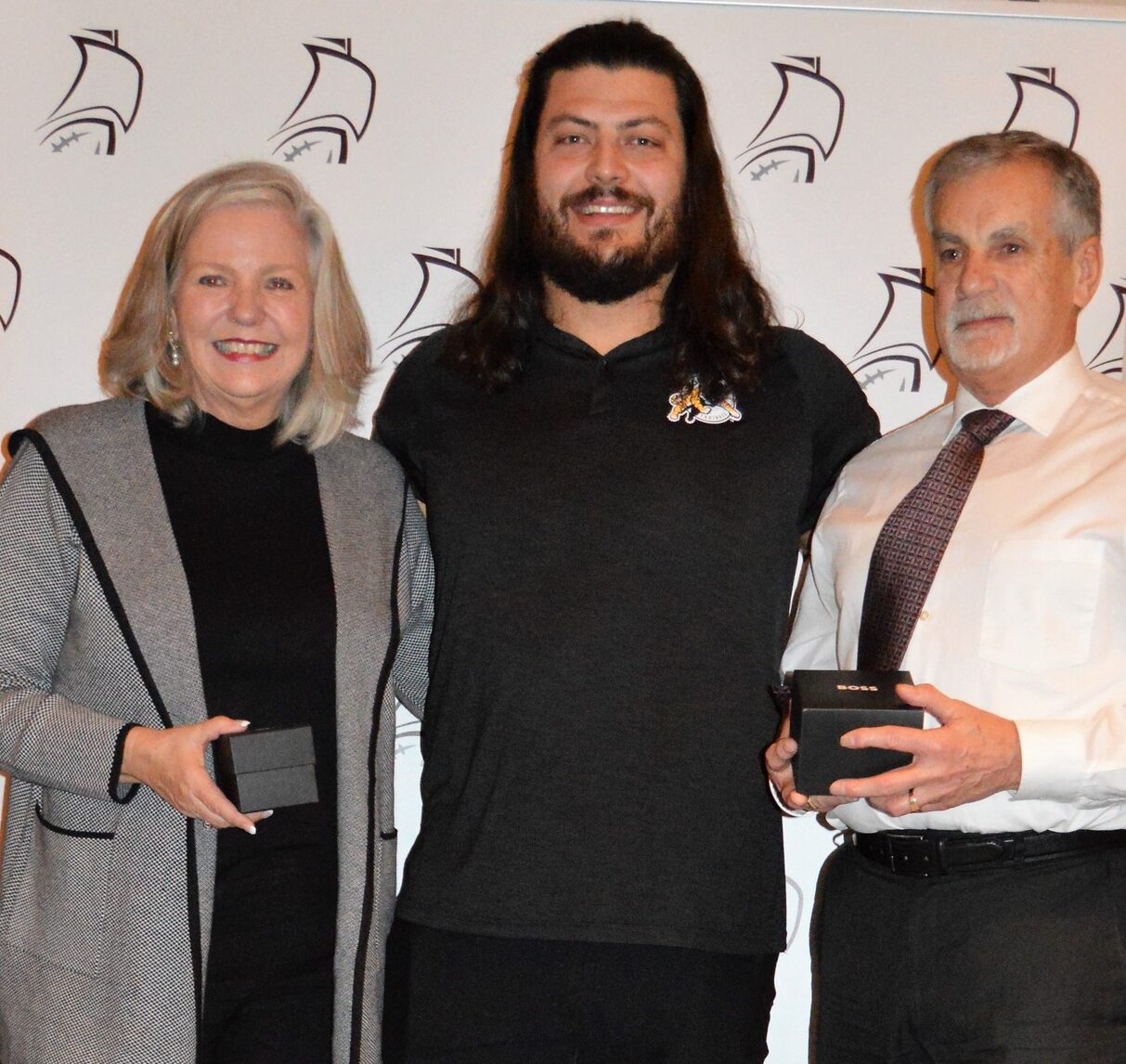 andy atkins
50 years of service award
Andy has been involved in Football for over 50 years as a Player, Coach, and as an Official! Andy won his first High School Championship in 1971 as a player and as an official worked numerous High School playoff and Provincial Finals. At the AUS level, he worked numerous Bowl games as well as 2 National Championships in 1997 and 2001. He is well known for his leadership both on and off the field, as well as a being just a great guy within the NBFOA!

This is the first time Football NB has recognized someone for 50 years of service. It is an incredible accomplishment and although thank you doesn't seem to be enough, we wish to thank Andy and his family for dedicating so much of their time to the sport of football in New Brunswick.
Congratulations on your retirement and on 50 years of service!