February 23, 2023

Moncton, NB – Football New Brunswick is thrilled to announce the return of the Mega Coaching Clinic. The Mega Clinic is a three day event featuring top coaching names from around the Maritimes and Canada!

The Mega Clinic will consist of an Offensive & Defensive Coordinator clinic on Friday night and several specialized segments focusing on key elements of the game Saturday and Sunday.

This is unlike any other coach clinic Football NB offers and is for intermediate to advanced level coaches looking to do a deep dive into key components of the game.

Registration and the guest coach line up will be released over the coming weeks.
Friday Line Up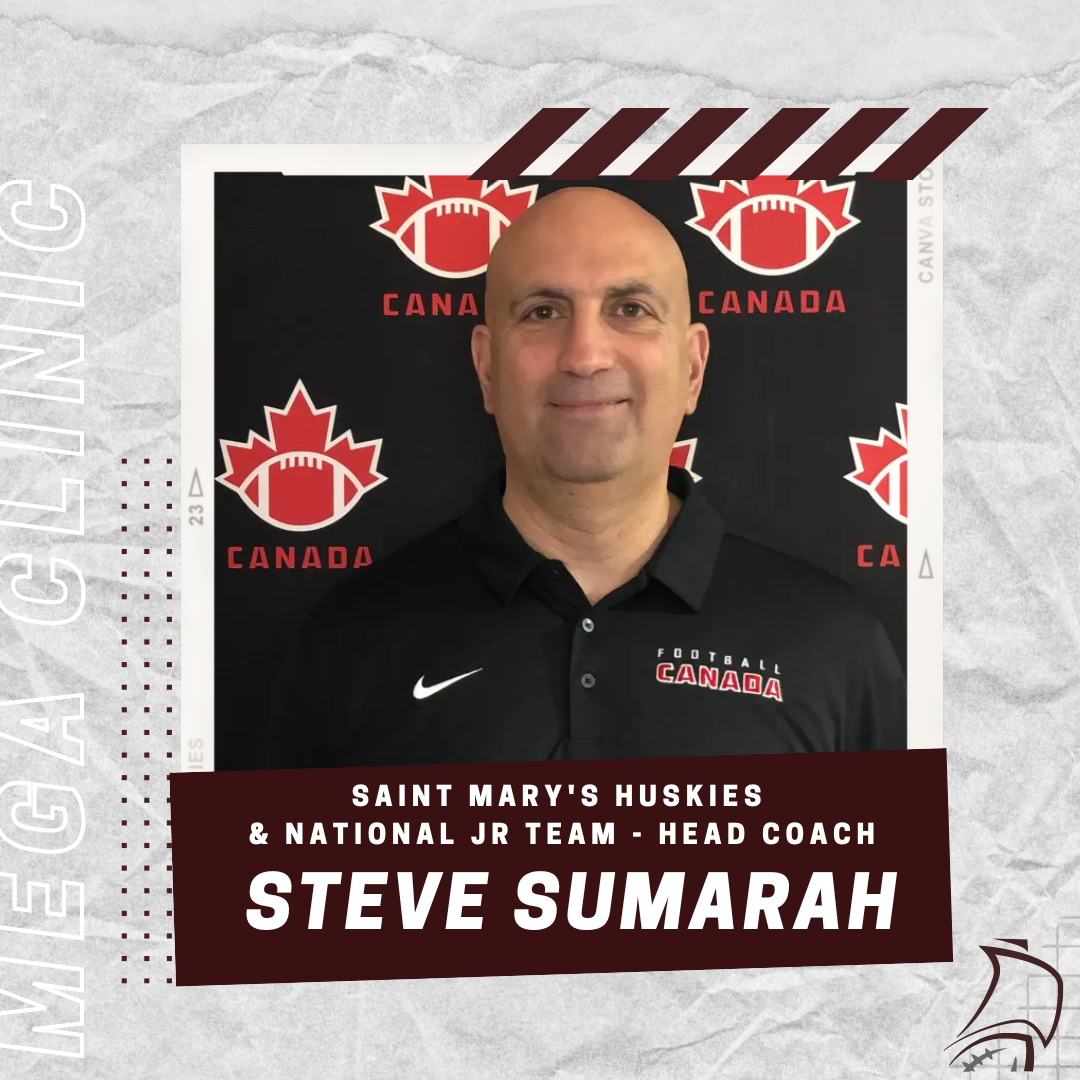 Offensive Coordinator Clinic
Steve Sumarah is the head coach of the Saint Mary's Huskies and the National Jr Team. He will kick our Mega Clinic off Friday night. You won't want to miss this!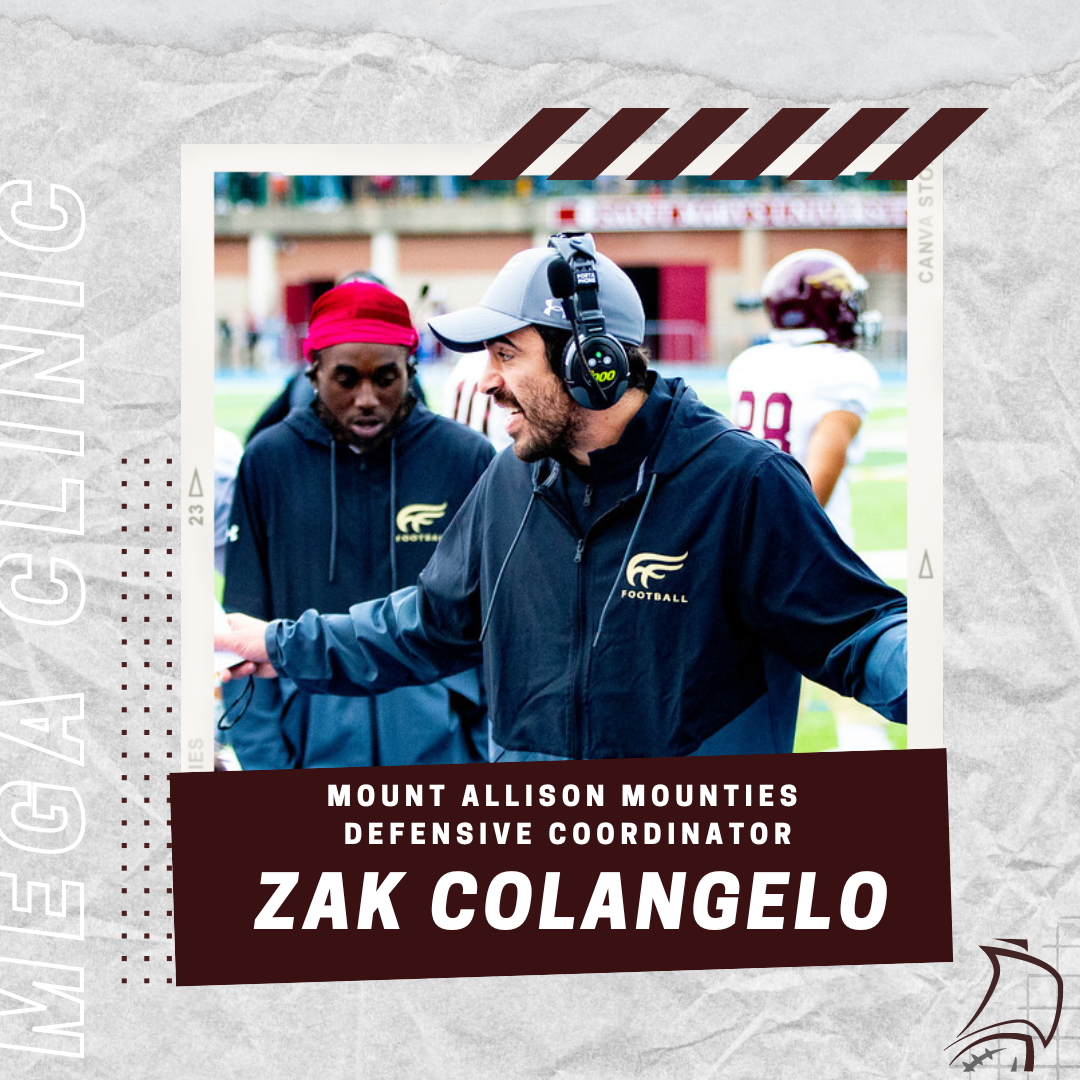 Defensive Coordinator Clinic
Zak Colangelo, Defensive Coordinator of the Mount Allison Mounties and Head Coach of our U18 Boys Provincial Team is one of the top defensive minds in the country. You will be sure to learn from his Defensive Coordinator Clinic!
Saturday Line up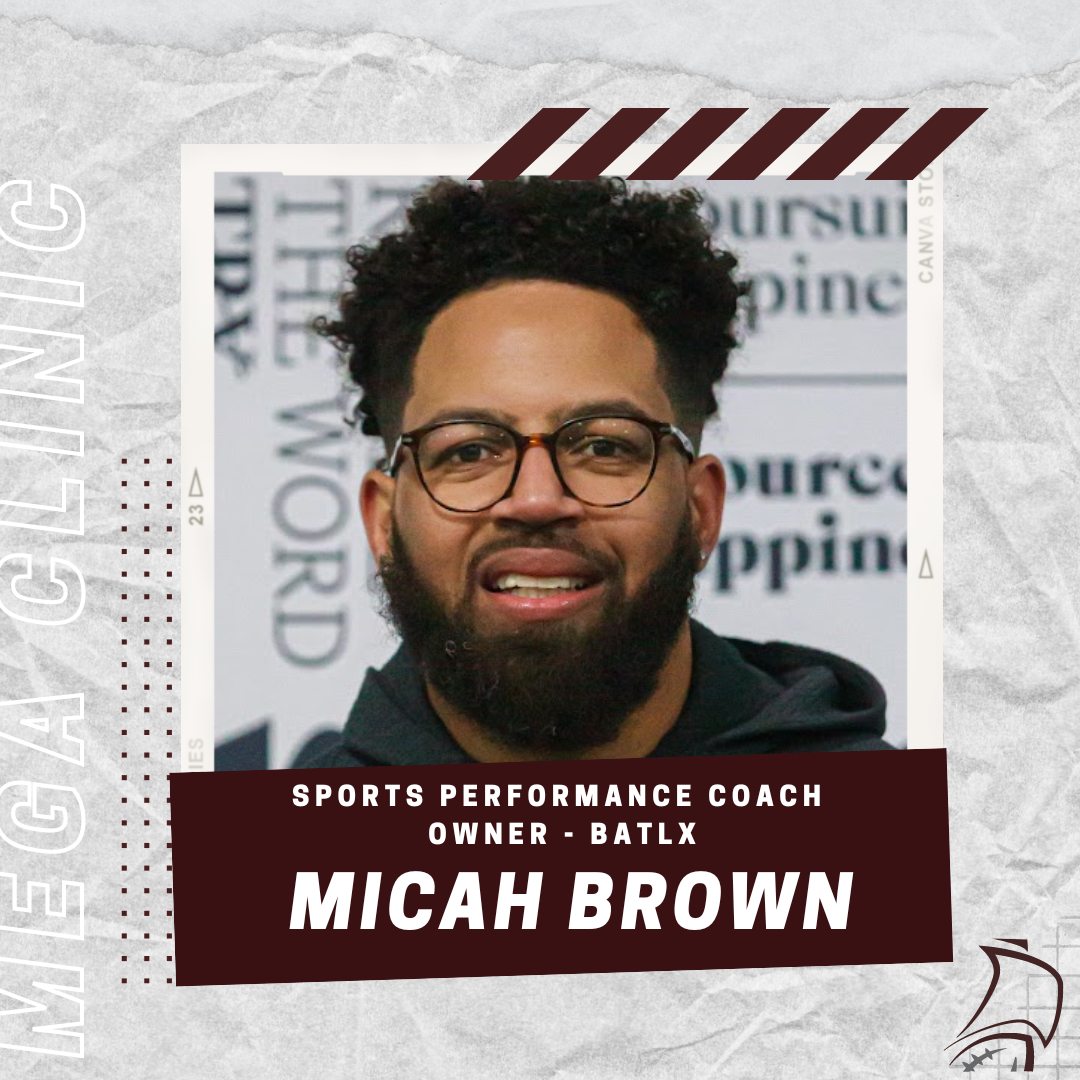 PLAYBOOK & SCRIPT MANAGEMENT
Micah is a former professional quarterback with stops in the CFL, GFL, AFL NCAA D1 and USports. Brown resides in Halifax and is the owner of BATLX, a football specific training and athlete development facility.
His session will introduce coaches to SMART COACH SOLUTIONS, an all-in-one workflow program for football coaches.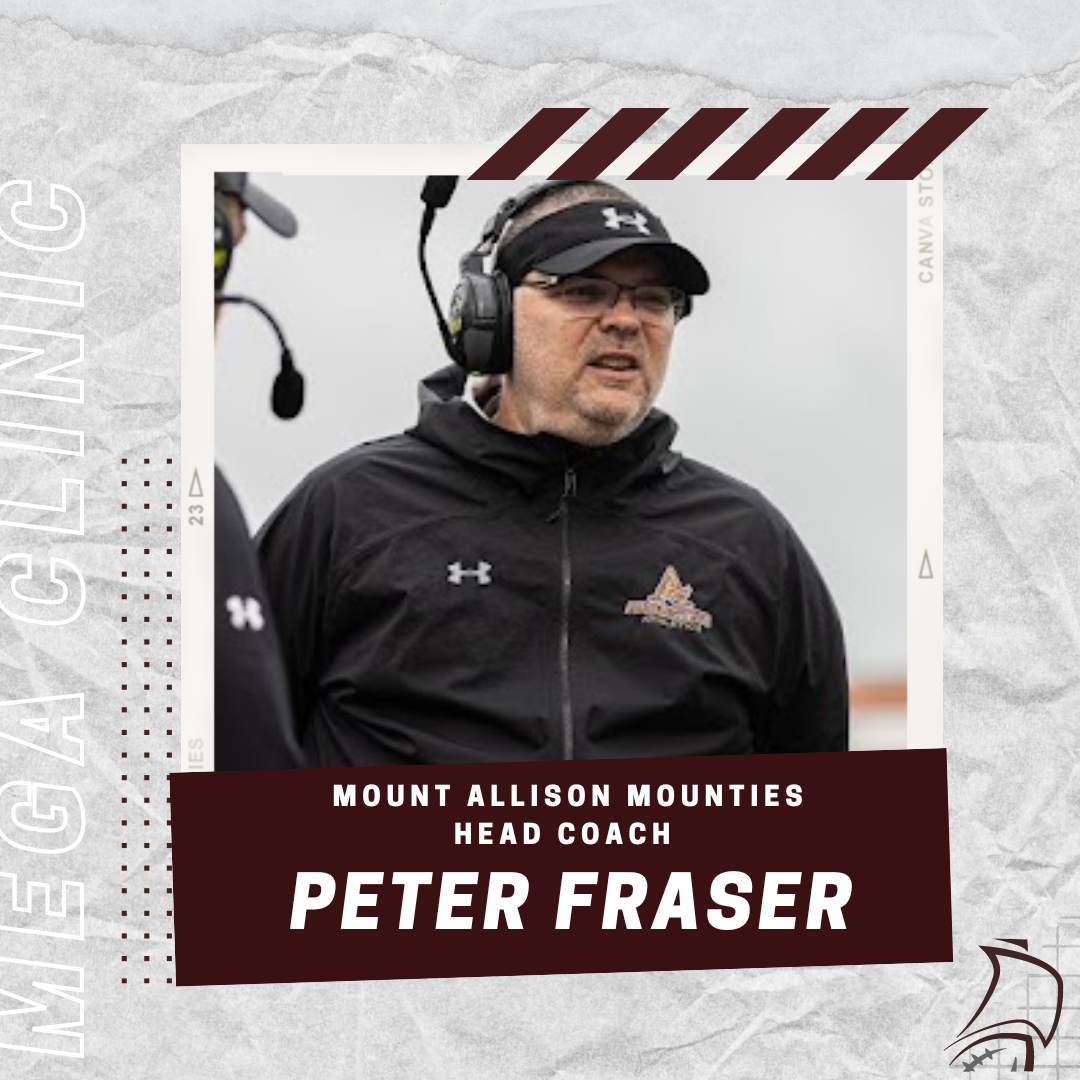 Defensive Line Front 7 Reads and Techniques in the Odd Front
Peter Fraser is the head coach of the Mount Allison Mounties and has been coaching at the USports level for over 11 years.
Fraser has experience coaching at the Canada Cup for both Nova Scotia (2012,13,15) and New Brunswick (2018) as well as interned with the Saskatchewan Roughriders in 2015-16.
He played defensive line at the University level and will be sure to pass down a lot of useful knowledge to anyone who sits in on this session.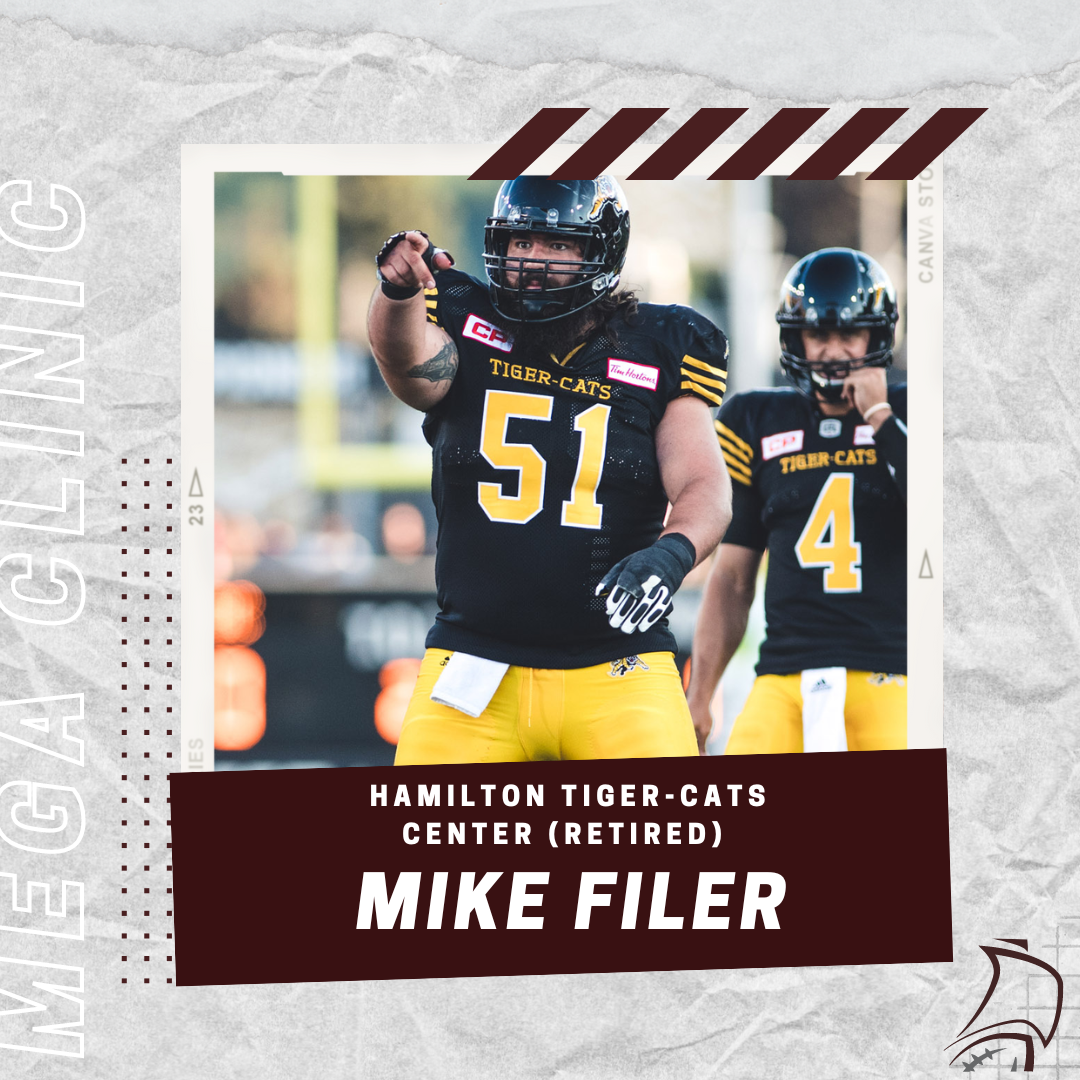 OFFENSIVE LINE: SKILLS & DRILLS (Gym Session)
Mike Filer played 8 seasons in the CFL all for the Hamilton Ti-Cats.
He now resides in Fredericton and has been providing tons of education to coaches this past year. If you haven't sat in on a session with Mike you will want to attend this one!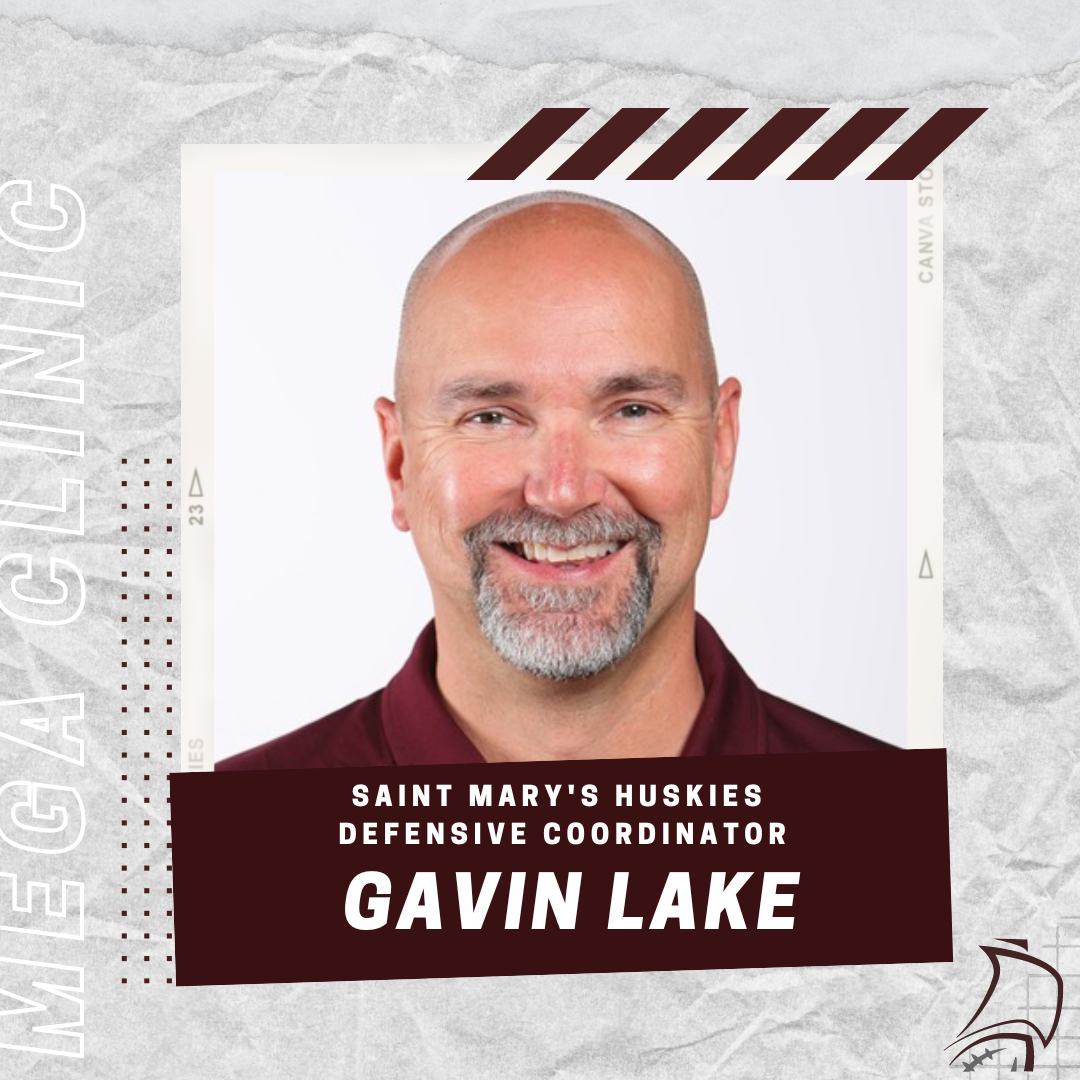 Defending the Pass
Gavin brings close to 30 years of coaching experience to his session including stops in the CFL. This session will focus on defending the pass. Check out Gavin Lakes experiences coaching around the world here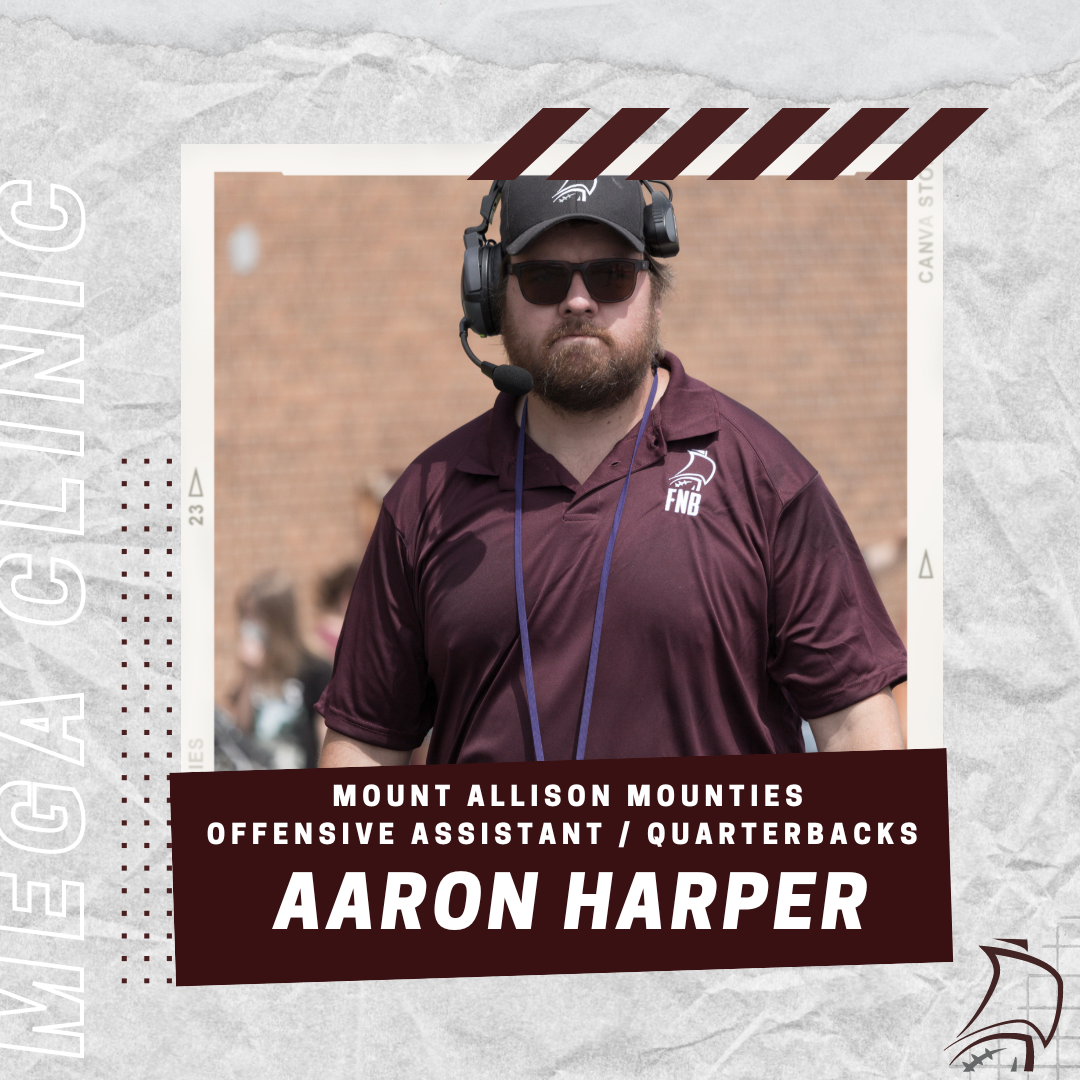 Quarterback fundamentals
Aaron Harper will be providing a 2 hour session on Quarterback Development. Harper has been involved as the Football NB High Performance Director, Head Coach of the U18 Canada Cup team and now coaches with Mount Allison University. Every coach will learn from Harpers QB course.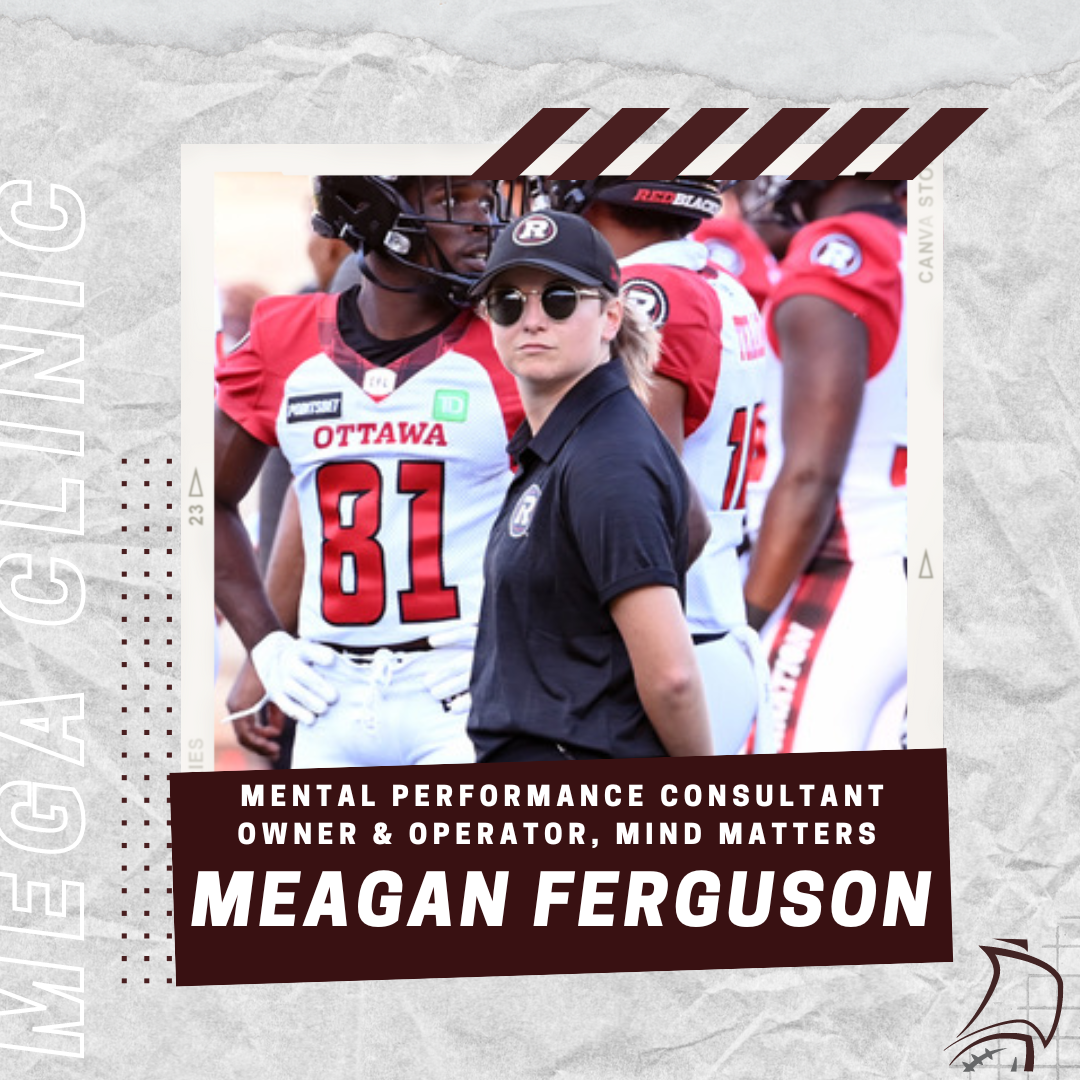 Mental Performance FUNdaMENTALs
Meagan is just 1 of 2 Mental Performance Consultants in PEI, where she owns and operates Mind Matters.
A Learning Facilitator with the Canadian Centre for Mental Health in Sport and a lead in Mental Performance for Sport PEI Athlete Health and High Performance Program.
In 2022 she was the Special Teams Coordinator for Team NB Female U18 Tackle and was 1 of 9 Women selected for the CFL Women in Football Program where she was a Defensive Assistant Coach with the Ottawa Redblacks.
Mental performance is such an important and often ignored part of the game and coaches will learn so much from Meagan's presentation!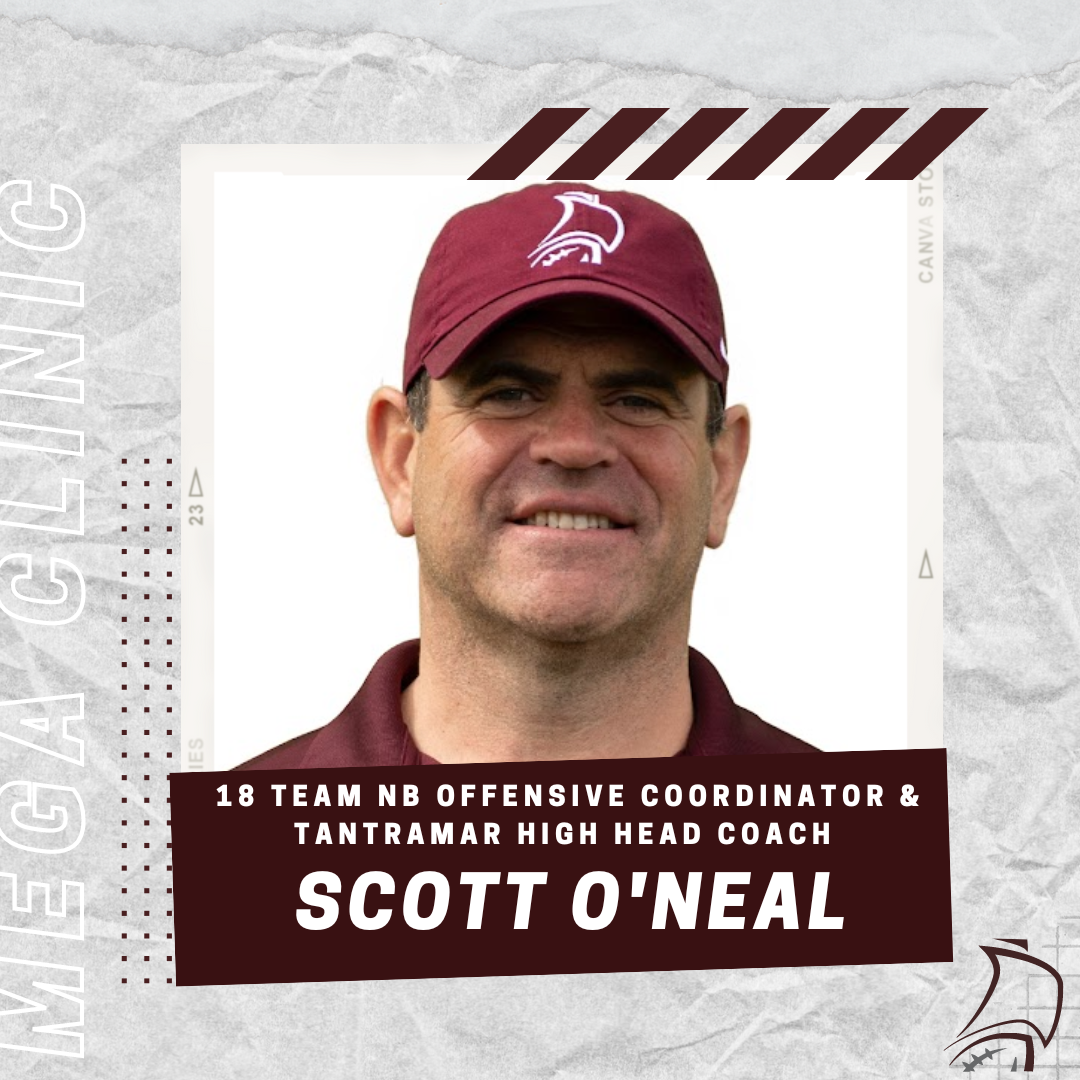 Running a Succesful High School Program
Scott O'Neal has over 20 years experience coaching high school football, 13 of them as Head Coach.
O'Neal's Titans went on a run winning 5 provincial championships in a row.
O'Neal has also been very involved coaching with Team NB, serving 8 years in multiple roles. Last year he was the head coach of the Under 16 team, this year he will be the U18 teams Offensive Coordinator.

Anyone involved in high school football or looking to build a successful winning culture will want to attend this session!
Sunday Line up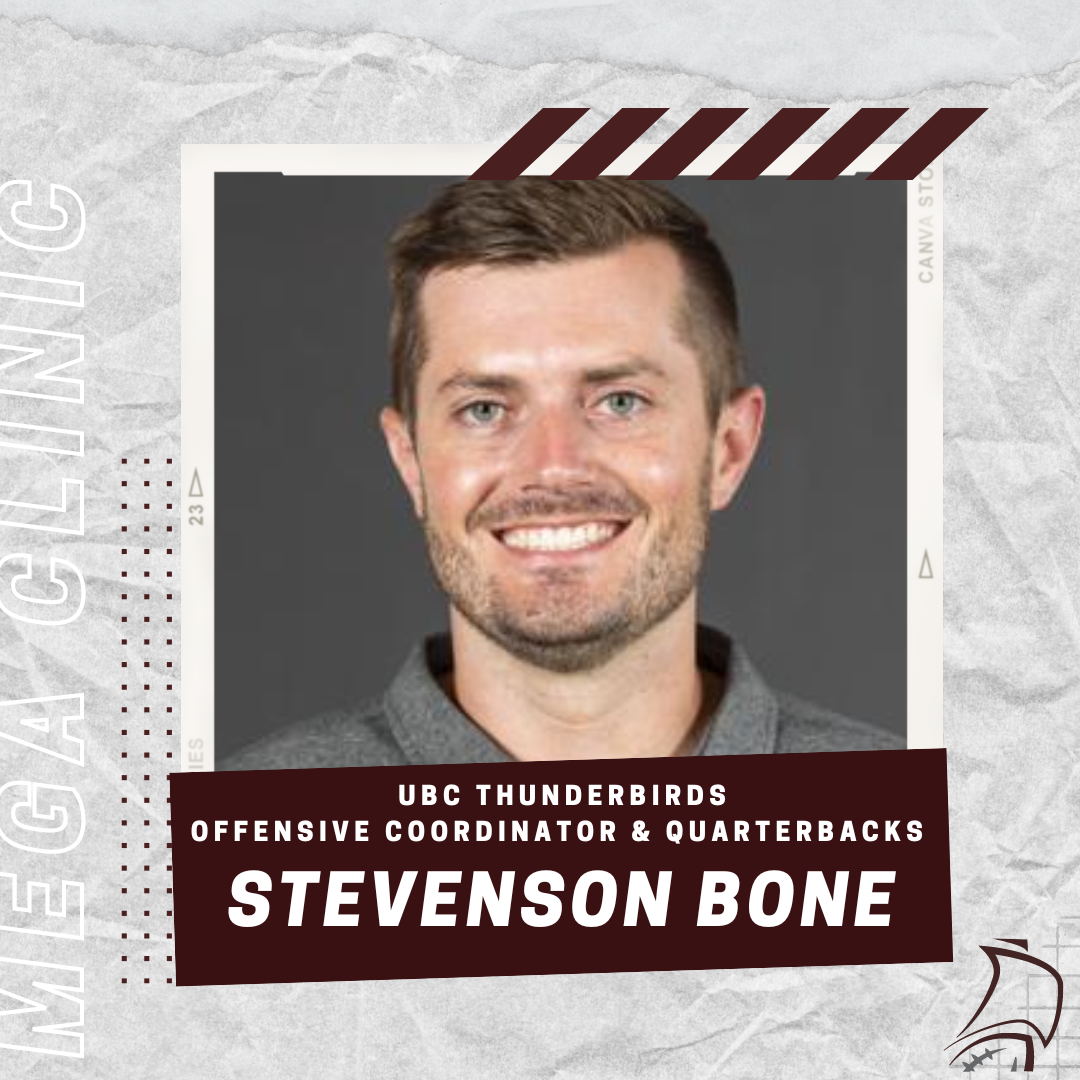 Incorporating RPO into Offensive Systems
Stevenson Bone enters his second season at UBC after being hired as the Thunderbirds' offensive coordinator and quarterback coach in July of 2022.
Bone came from the University of Guelph where he was the manager of football operations in addition to being the quarterbacks & running backs coach from 2019-21. Prior to his time with the Gryphons he held positions in football operations with the Canadian Football League Head Office and the Toronto Argonauts.
During UBC's 2022 campaign Bone oversaw an offense which averaged 440 yards per game (fifth nationally) and was the number one rushing team in Canada West. Three members of his offence were selected as All-Canadians while offensive lineman, Theo Benedet, was awarded the J.P. Metras Trophy as the Most Outstanding Lineman in the country.
Highly regarded as a QB coach, Bone is in his fifth-year coaching quarterbacks at the prestigious Manning Passing Academy in Thibodeaux, Louisiana, the only Canadian coach to hold this position.
Bone has coached at the annual U SPORTS All-Star East-West Bowl game, serving as quarterbacks coach in 2022; was head football coach of the OSFL Guelph Jr. Gryphons in 2022; and from 2014-2018 worked with the OVFL London Jr. Mustangs organization as the OC & QB Coach. A two time Academic All-Canadian during his playing career as a quarterback with the Western University Mustangs, Bone won the National Championship Vanier Cup in 2017 and OUA Championships in 2013 & 2017.
Before attending Western, Bone played CEGEP Football with the John Abbott College Islanders and the Vanier College Cheetahs.
From Darien Connecticut, Bone appeared in the 2008 state championship as a QB with Darien HS.
Bone earned his bachelor's degree in Geography from Western University in 2016 and received his master's degree in Kinesiology with a specialization in Leadership and Management in 2018.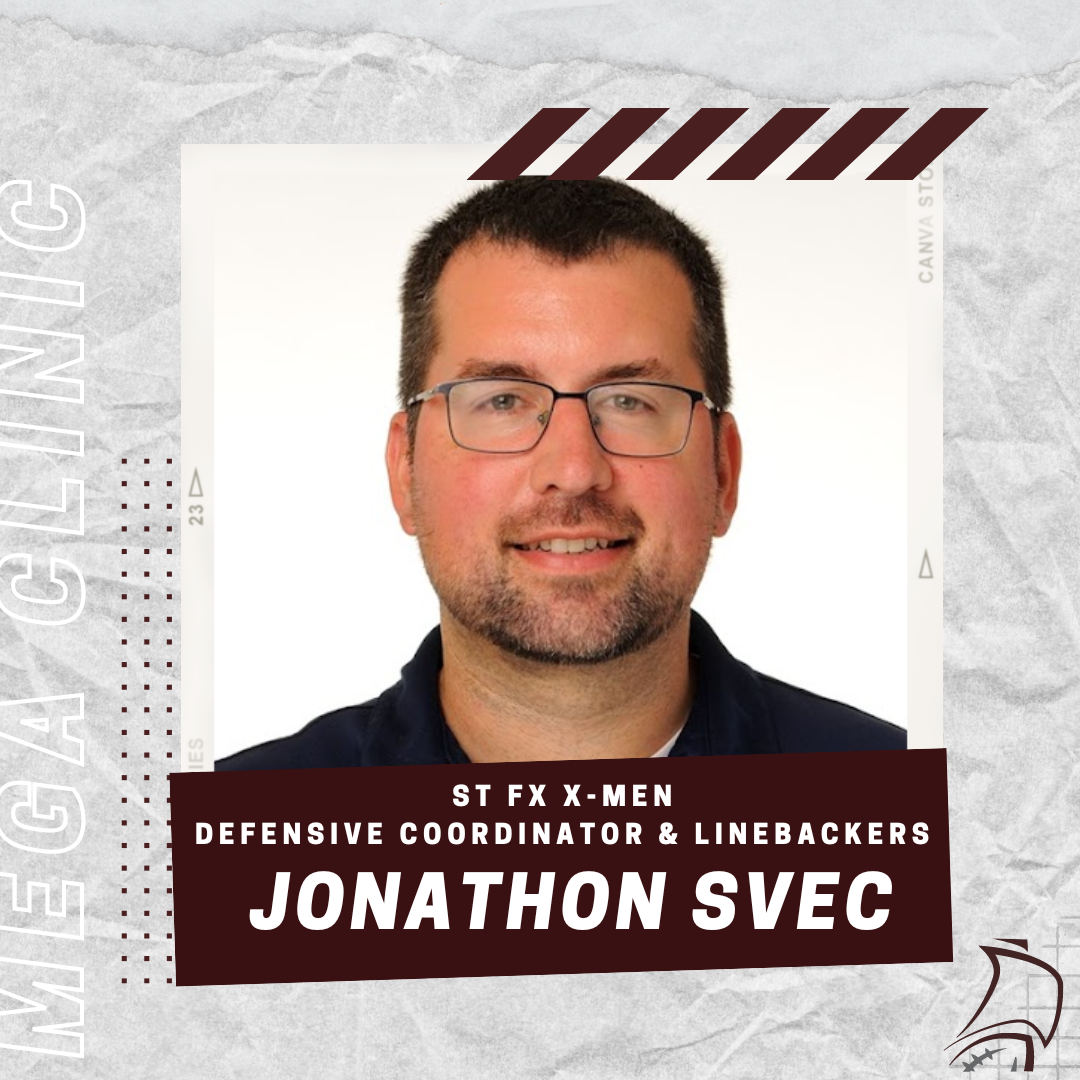 Tackling Techniques and Drills
Svec has been the Defensive Coordinator at St FX for 10 years and has coached 12 years total for the program.
Coaches interested in learning from one of the best defensive minds in the country will want to attend this online session on Sunday!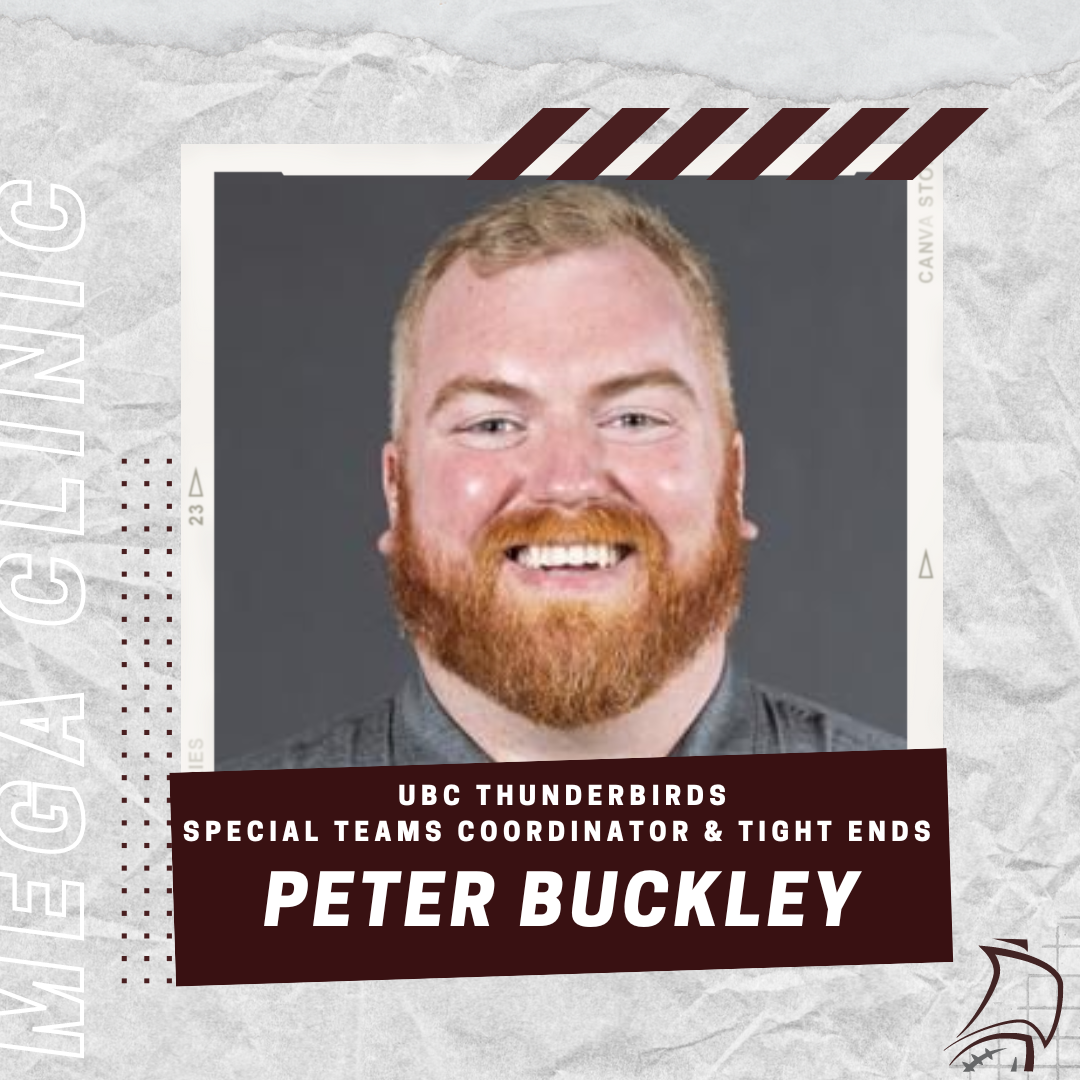 SPECIAL TEAMS – Topic TBD
Peter brings coaching experience from Canada, US and Europe:
2020-Present : Special Teams Coordinator and Tight Ends Coach – University of British Columbia
2019: TE Coach, UBC
2018: Assistant OL Coach – UBC
2009-2017: Head Coach – University of Warwick, UK
Brought Winning Culture to the # 77 University in the world
2009- ongoing: Continuous Professional Development
Program visits, Conferences, Networking and building knowledge:
Programs visits include. Alabama (3x) , Arizona Cardinals, Arkansas, Cincinnati Bengals, Jacksonville Jaguars,
Oklahoma State, SMU, Tampa Bay Buccaneers, Tulane, Virginia
Conferences include:
AFCA Convention, Cool Clinic, LeCharles Bentley Seminars, Nike COY Clinic
Schedule
Friday, March 24 – Moncton High School
Time: 6-9pm
Offensive Coordinator Clinic
Steve Sumarah, Head Coach Saint Mary's Huskies and National Jr Team

Defensive Coordinator Clinic
Zak Colangelo, Defensive Coordinator, Mount Allison Mounties
Saturday, March 25 – Moncton High School
8:00am
Welcome, coffee and continental breakfast
8:30am
Aaron Harper, QB Coach and Offensive Assistant, Mount Allison Mounties
QB Fundamentals
Gavin Lake, Defensive Coordinator, Saint Mary's Huskies
Defending the Pass: Man & Zone Principles with Techniques
9:30am
Scott O'Neal, Head Coach Tantramar High and U18 NB Offensive Coordinator
Running a Successful High School Program
10:30am
Micah Brown, BATLX
Smart Coach Solutions: Playbook and Script Management
Peter Fraser, Head Coach, Mount Allison Mounties
Defensive Line Front 7 Reads and Techniques in the Odd Front
12:00pm
Lunch
1:00pm
Meagan Ferguson, Owner and Operator, Mind Matters
Mental Performance FUNdaMENTALs
3:00pm
Mike Filer, Retired CFL Offensive Lineman
Offensive Line: Skills and Drills (Gym Session)
Sunday, March 26 – Online
1:00pm
Stevenson Bone, UBC Thunderbirds, Offensive Coordinator
Incorporating RPO into Offensive Systems
3:00pm
Peter Buckley, UBC Thunderbirds, Special Teams Coordinator
5:00pm
Jonathon Svec, St FX X-Men, Defensive Coordinator
Tackling Techniques and Drills
Registration Pricing
| | | |
| --- | --- | --- |
| Package | Member | Non Member |
| Coordinator Course | $125 | $175 |
| Saturday Sessions | $100 | $125 |
| Sunday Online | $50 | $75 |
| Full Weekend (best value) | $175 | $200 |
| Saturday & Sunday Group Rate (min 6 Coaches) | $75/coach | $100/coach |
HOTEL RATES
Football NB is offering 15% off the best available rooms at both Moncton Comfort Inn locations! Free hot breakfast included!
Contact
Contact Jon Wilkinson at [email protected] for all inquiries