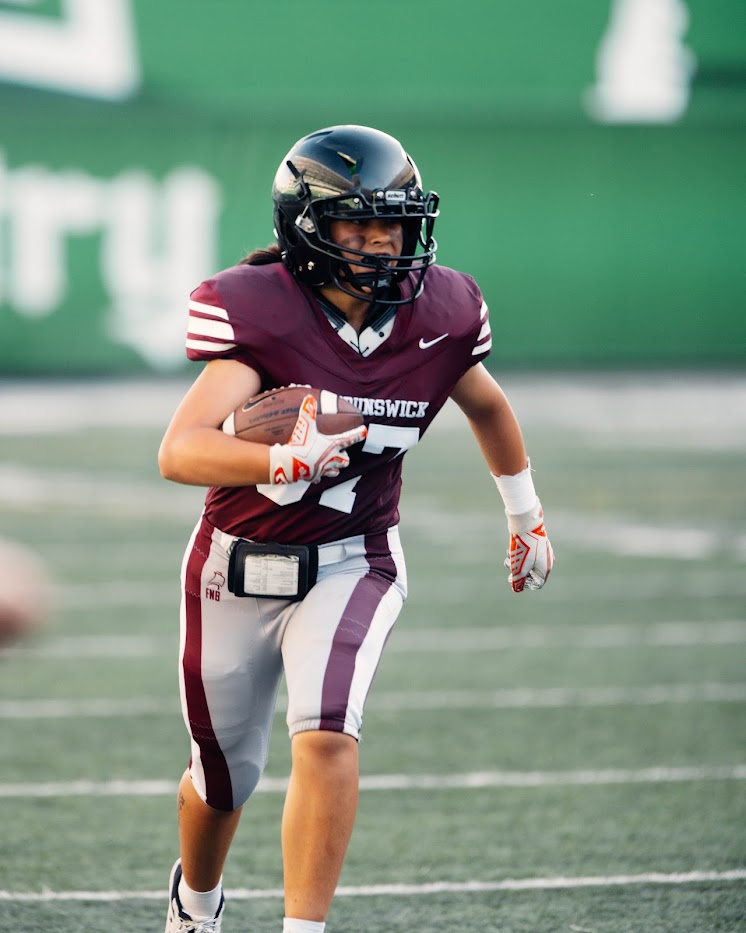 Varsity Girls
For Parents
Why Play Football?
What every concerned parent should know….. but didn't know who to ask.
We will address some of the questions and concerns that parents have raised about their child's participation in football.
WHY SHOULD MY CHILD PLAY FOOTBALL ?
Children play football because it is fun, challenging and exciting. Most kids love being part of a team.
Football teaches cooperation and team work, helps develop positive social skills and teaches respect for others. It helps build self-confidence, a positive self-image and self-worth. It enables a child to improve upon and develop a broad range of motor skills like throwing, catching, running, kicking, balance, agility and coordination. Because a large variety of skills and physical abilities are required on a football team, there is a position for every child to play.
WHAT PSYCHOLOGICAL EFFECT WILL FOOTBALL HAVE ON MY CHILD ?
Football New Brunswick strives to provide the proper environment so your child will have a positive and rewarding experience.
HOW SAFE IS FOOTBALL ?
Football is a contact sport and injuries do occur. However, the risk of injury is no greater than in other contact sports, when:
played within rules that are appropriate to the age and abilities of the players;
teams conduct business with a "child first" attitude;
games are well officiated;
proper playing techniques are taught;
coaches are approprately traind;
proper, well-fitting and maintained equipment is worn.
The safety and well being of participants is the number one concern of Football New Brunswick.
HOW IS FOOTBALL BEING MADE A SAFER GAME ?
Football Canada's rules, officials, equipment, coaches and program committees are constantly reviewing their activities to ensure that the safety and well-being of all participants are being met.
Coaches and Officials Certification Programs are conducted.
Protective equipment is continually being improved.
Equipment fitting and maintenance guidelines are constantly being updated.
Equipment fitting and maintenance training is available through member Associations.
AT WHAT AGE SHOULD MY CHILD PLAY FOOTBALL ?
Children are attracted to competitive sport at an early age. Competition is not generally a problem unless too much emphasis is placed on winning. As long as the players are of relatively similar skill level, strength , age and stature they can compete safely in football.
Your child should be encouraged to play football only when he/she exhibits an interest in doing so. As soon as the child can comprehend team play and wants to participate with a team then a child is ready for football.
Football New Brunswick's members provides tackle football programs for youth aged 10-18. Children aged 7-9 can play in our members' flag (touch) football programs.
WHAT SHOULD I BE LOOKING FOR IN MY CHILD'S FOOTBALL TEAM ?
Your child should be participating on a team that:
is coached by a responsible, knowledgeable Football Canada certified coach;
conducts its affairs in a code of FAIR PLAY;
provides a team equipment manager trained to properly fit and maintain equipment;
provides its players with properly fitted and maintained equipment;
emphasizes a physical conditioning program appropriate to the participant's age;
provides a team trainer or support staff knowledgeable in first aid;
reflects those values that you want your team to acquire;
ensures that your child is exposed to an athletic environment that suits his/her interest and abilities and level of commitment; and
practices and plays for fun.
Further, your child should be participating in a league and within an organization that;
uses only nationally certified officials;
has safe and well maintained playing areas;
considers the needs of the children first;
has functioning, appropriate safety rules and procedures in place; and
actively promotes "FAIR PLAY" through philosophy, policy and action.
DO I NEED TO BUY EQUIPMENT FOR MY CHILD ?
Except for personal items such as jock straps, undergarments and footwear, most teams supply equipment to their players. However, if you wish to buy equipment for your child:
Learn as much as possible about the various products that are available. Talk to equipment managers in your league, association or call Football New Brunswick.
Buy only the best equipment available for your child; BUT remember the best equipment is not necessarily the most expensive.
Buy equipment that fits NOW. Do not buy equipment that is too big for your child on the assumption that he/she will grow into it.
Buy from a knowledgeable, recognized and well-respected sports dealer, who has experience in selling football equipment.
REMEMBER that even the best equipment cannot provide the protection it is designed to give, unless it is maintained conscientiously and checked regularly for proper fit and defects.
WHAT IS THE PROPER FOOTBALL EQUIPMENT AND HOW SHOULD IT FIT ?
Only quality equipment that carries at least one of the following labels is recommended: NOCSAE (National Operating Committee on Standards for Athletic Equipment), ASTM (American Standards for Testing Materials- F8 Committee), CSA (Canadian Standards Association) and Football Canada.
For players up to 14 years of age helmet shells made of polyethylene are recommended, because they weigh less than adult helmet shells and, under the lower impact levels in this age group, this shell should be quite satisfactory. Also, buy a helmet with four point snap attachments and buy a mask which is designed to fit the helmet that you have selected. The helmet should fit snugly on the child's head. The rim of the helmet should be approximately one inch (2.5 cm.) above the eyebrows. The air holes on the side of the helmet should be in line with the ear holes.
Shoulder pads must provide maximum protection of the shoulder blades, collar bone, the collar bone-shoulder blade joint and the ball joint of the upper arm. They should be light and well balanced to allow for a maximum range of motion and be correctly fitted to the athlete.
There are four basic youth shoulder pad designs which will provide the protection necessary for 14 years of age and under. So you don't need to buy "specialty" pads at this point in your child's career.
The padding in the pants should offer sufficient protection and should stay in place (over the hips, snug to the thighs and down over the knees) when the child moves.
Properly fitting football equipment is essential for the safety of your child. Speak to someone trained in fitting equipment for assistance.
Football Canada's "Purchasing and Maintaining Football Equipment" manual is recommended reading.